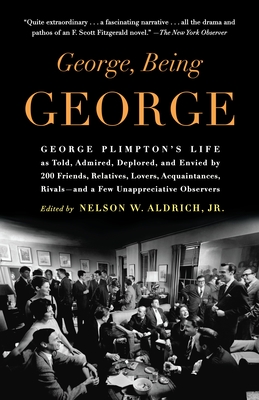 George, Being George (Paperback)
George Plimpton's Life as Told, Admired, Deplored, and Envied by 200 Friends, Relatives, Lovers, Acquaintances, Rivals--and a Few Unappreciative Observers
Random House Trade Paperbacks, 9780812974188, 432pp.
Publication Date: October 27, 2009
* Individual store prices may vary.
Description
Contributors include Harold Bloom, Jules Feiffer, John Guare, Norman Mailer, Peter Matthiessen, Maggie Paley, Richard Price, James Salter, Robert Silvers, William Styron, Gay Talese, Calvin Trillin, Gore Vidal, and 200 other Plimpton intimates

Norman Mailer said that George Plimpton was the best-loved man in New York. This book is the party that was George's life–and it's a big one–attended by scores of famous people, as well as lesser-known intimates and acquaintances. They talk about his life: its privileged beginnings, its wild and triumphant middle, its brave, sad end. They say that George was a man of many parts: the "last gentleman," founder and first editor of The Paris Review, the graceful writer who brought the New Journalism to sports, and Everyman's proxy boxer, trapeze artist, stand-up comic, Western movie villain, and Playboy centerfold photographer.

George's last years were awesome, truly so. His greatest gift was to be a blessing to others–not all, truth be told–and that gift ended only with his death. But his parties, if this is one, need never end at all.
About the Author
Nelson W. Aldrich, Jr. is a freelance writer and editor. Formerly Paris editor of The Paris Review, a senior editor at Harper's Magazine, and a reporter for The Boston Globe, he is a frequent contributor to such publications as The Atlantic, Harper's, The Nation, New England Monthly, and Vogue. He is the author of George, Being George.

Praise For George, Being George: George Plimpton's Life as Told, Admired, Deplored, and Envied by 200 Friends, Relatives, Lovers, Acquaintances, Rivals--and a Few Unappreciative Observers…
"This superb, exuberant oral biography of editor-author-actor Plimpton (1927—2003) is described by Aldrich as 'a kind of literary party, George's last.' When one scans any page at random in this appealing assemblage of anecdotes, it becomes difficult to stop reading. Plimpton's colorful personality emerges in a high-definition prismatic portrait."—Publisher's Weekly, starred review

"The variety and eminence of the voices contributing to this unique biography of Plimpton offer a very personal look at a journalist known for promoting a participatory style of reportage. The stories are revealing, humorous, and evocative of the exuberance of Plimpton himself and the company of writers in a fascinating era in American literature. Photographs and correspondence add to the sense of intimacy in this look at a beguiling figure."—Booklist

"Aldrich employs a rough though never rigid chronology throughout these reminiscences, which vary in length from a few sentences to a page or two. The impressive contributors list reads like a literati's dream: among many others, Chris Cerf, Robert Gottlieb, Philip Gourevitch, Hugh Hefner, P.J. O'Rourke, William Styron, Gore Vidal and Edmund White. A largely admiring mosaic with some pieces that glisten and illuminate."—Kirkus

"Hugely entertaining . . . George is a character to be fondly remembered, a hero of sorts, and a charmed and charming partner in his own spirited dance to the music of time."—New York Times Book Review

"Superb, exuberant . . . Plimpton's colorful personality emerges in a high-definition prismatic portrait."—Publishers Weekly, starred review

"Dazzling bits of mosaic . . . vivid recollections and lively anecdote."—Boston Globe

"Compulsively readable."—Newsweek
Coverage from NPR
or
Not Currently Available for Direct Purchase