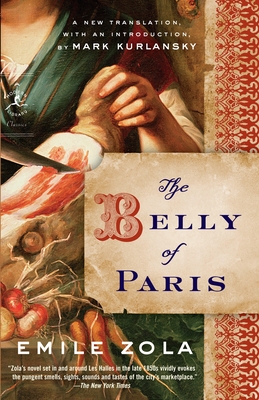 The Belly of Paris (Modern Library Classics) (Paperback)
Modern Library, 9780812974225, 368pp.
Publication Date: May 12, 2009
* Individual store prices may vary.
Description
Part of Emile Zola's multigenerational Rougon-Macquart saga, The Belly of Paris is the story of Florent Quenu, a wrongly accused man who escapes imprisonment on Devil's Island. Returning to his native Paris, Florent finds a city he barely recognizes, with its working classes displaced to make way for broad boulevards and bourgeois flats. Living with his brother's family in the newly rebuilt Les Halles market, Florent is soon caught up in a dangerous maelstrom of food and politics. Amid intrigue among the market's sellers–the fishmonger, the charcutière, the fruit girl, and the cheese vendor–and the glorious culinary bounty of their labors, we see the dramatic difference between "fat and thin" (the rich and the poor) and how the widening gulf between them strains a city to the breaking point.

Translated and with an Introduction by the celebrated historian and food writer Mark Kurlansky, The Belly of Paris offers fascinating perspectives on the French capital during the Second Empire–and, of course, tantalizing descriptions of its sumptuous repasts.
About the Author
Emile Zola (1840—1902) was born in Paris and worked as a journalist before turning to fiction. With the publication of L'Assommoir, he became the most famous writer in France. His work has influenced authors from August Strindberg to Theodore Dreiser to Tom Wolfe.

Mark Kurlanksy is the New York Times bestselling and James A. Beard Award—winning author of The Last Fish Tale, The Big Oyster, Cod, and Salt, among other books. He has translated numerous pieces from French, Spanish, and Italian for his anthology of food writing Choice Cuts. He lived in Paris for ten years but now resides in New York City.
Praise For The Belly of Paris (Modern Library Classics)…
"'In an age when gastronomic fiction has become fashionable,' Emile Zola's 1873 novel The Belly of Paris... 'seems ahead of its time,' writes food historian Mark Kurlansky in the introduction to his new translation of the book. Set amid the bustling Les Halles market, the novel 'revolves around the graphically illustrated conceit that the bourgeoisie not only eats too much but has an unhealthy obsession with food.' Its descriptions of cuisine, too, are notable for their length, detail and humor."—Washington Post

"It's totally appropriate that food-writer Mark Kurlansky should helm Modern Library Classics' new translation of Émile Zola's The Belly of Paris. Not only does he have a keen ear for Zola's revolutionary naturalism, he also captures the passion at the heart (or gut) of The Belly of Paris–a passion for food." —Biblioklept