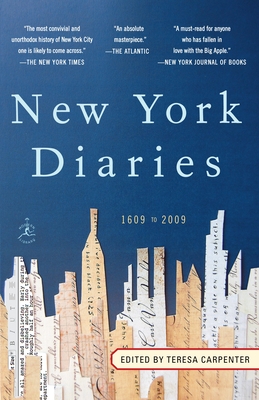 New York Diaries (Paperback)
1609 to 2009
Modern Library, 9780812974256, 512pp.
Publication Date: December 11, 2012
Other Editions of This Title:
Hardcover (1/3/2012)
* Individual store prices may vary.
Description
New York is a city like no other. Through the centuries, she's been embraced and reviled, worshipped and feared, praised and battered—all the while standing at the crossroads of American politics, business, society, and culture. Pulitzer Prize winner Teresa Carpenter, a lifelong diary enthusiast, scoured the archives of libraries, historical societies, and private estates to assemble here an almost holographic view of this iconic metropolis. Starting on January 1 and continuing day by day through the year, these journal entries are selected from four centuries of writing—revealing vivid and compelling snapshots of life in the Capital of the World.
 
"Today I arrived by train in New York City . . . and instantly fell in love with it. Silently, inside myself, I yelled: I should have been born here!"—Edward Robb Ellis, May 22, 1947
 
Includes diary excerpts from Sherwood Anderson • Albert Camus • Noël Coward • Dorothy Day • John Dos Passos • Thomas Edison • Allen Ginsberg • Keith Haring • Henry Hudson • Anne Morrow Lindbergh • H. L. Mencken • John Cameron Mitchell • Julia Rosa Newberry • Eugene O'Neill • Edgar Allan Poe • Theodore Roosevelt • Elizabeth Cady Stanton • Alexis de Tocqueville • Mark Twain • Gertrude Vanderbilt • Andy Warhol • George Washington • Walt Whitman • and many others
 
"The most convivial and unorthodox history of New York City one is likely to come across."—The New York Times
 
"A must-read for anyone who has fallen in love with the Big Apple."—New York Journal of Books
 
"An absolute masterpiece."—The Atlantic
About the Author
Teresa Carpenter is the author of four books, including the New York Times bestseller Missing Beauty. She is a former senior editor of The Village Voice, where her feature articles on crime and the law won a Pulitzer Prize in 1981. She lives in New York City's Greenwich Village with her husband, writer Steven Levy, and their son.
Praise For New York Diaries: 1609 to 2009…
"The most convivial and unorthodox history of New York City one is likely to come across."—The New York Times
 
"A must-read for anyone who has fallen in love with the Big Apple."—New York Journal of Books
 
"An absolute masterpiece."—The Atlantic
 
"An impressive range . . . The voices from the past we hear in these entries reassure us that we're all part of a great cosmic parade."—Maureen Corrigan, NPR
 
"Fascinating . . . too compelling to put down."—Whitney Matheson, USA Today
 
"Required reading . . . as comprehensive as it is revealing, making the city come alive."—Susannah Cahalan, New York Post
 
"My newest favorite browse."—Alexander Nazaryan, New York Daily News