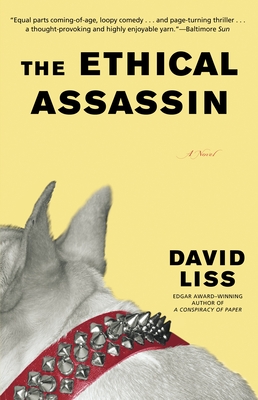 The Ethical Assassin (Paperback)
Ballantine Books, 9780812974546, 327pp.
Publication Date: January 30, 2007
Description
Edgar award-winning author of the popular historical novels A Conspiracy of Paper and A Spectacle of Corruption, David Liss showcases his amazing versatility with this brilliant new tale of contemporary suspense: a literary thriller set in Florida, where killing is a matter of conscience.
No one is more surprised than Lem Altick when it turns out he's actually good at peddling encyclopedias door to door. He hates the predatory world of sales, but he needs the money to pay for college. Then things go horribly wrong. In a sweltering trailer in rural Florida, a couple whom Lem has spent hours pitching is shot dead before his eyes, and the unassuming young man is suddenly pulled into the dark world of conspiracy and murder. Not just murder: assassination- or so claims the killer, the mysterious and strangely charismatic Melford Kean, who has struck without remorse and with remarkable good cheer. But the self-styled ethical assassin hadn't planned on a witness, and so he makes Lem a deal: Stay quiet and there will be no problems. Go to the police and take the fall.
Before Lem can decide, he is drawn against his will into the realm of the assassin, a post-Marxist intellectual with whom he forms an unlikely (and perhaps unwise) friendship. The ethical assassin could be a charming sociopath, eco-activist, or vigilante for social justice. To unravel the mystery and save himself, Lem must descend deep into a bizarre world he never knew existed, where a group of desperate-and genuinely deranged-schemers have hatched a plan that will very likely keep Lem from leaving town alive.
David Liss skillfully interweaves a gallery of eccentric characters with a multilayered plot characterized by its unpredictable twists and turns. The Ethical Assassin is a brilliant, darkly comic novel that will leave readers in suspense until the very last page.
From the Hardcover edition.
About the Author
David Liss is the author of A Spectacle of Corruption, The Coffee Trader, and A Conspiracy of Paper, winner of the 2000 Edgar Award for Best First Novel. He lives in San Antonio with his wife and daughter, and can be reached via his website at www.davidliss.com. From the Hardcover edition.
Praise For The Ethical Assassin…
Advance praise for The Ethical Assassin

"Gripping entertainment from the opening pages–a terrific read with the page-turning energy of a first-rate thriller, but also far more than that. David Liss has written a genre-bender with more than its share of white-knuckle suspense, vivid characters, and surprising humor."
–Joseph Finder, author of Company Man

"Hilarious, poignant, and laced with paranoia, The Ethical Assassin reads like a Hardy Boys mystery on acid. David Liss pulls out all the stops in this Homeric coming-of-age tale. A vibrant and sweaty page-turner, this book explodes with fresh, memorable characters and a soundtrack I'd like to own."
–Mark Haskell Smith, author of Moist and Delicious

"Hypnotic and addictive storytelling."
–Lee Child, author of One Shot

"Imagine David Lynch's bizarre masterpiece Blue Velvet, scripted by Edna Buchanan and Carl Hiaasen. It's a blast."
–Kirkus Reviews (starred review)
Advertisement