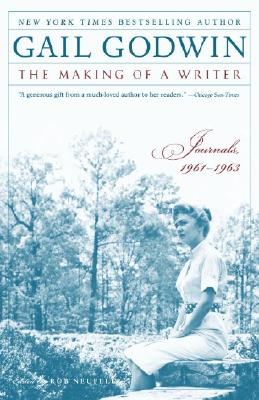 The Making of a Writer
Journals, 1961-1963
Paperback

* Individual store prices may vary.
Description
Gail Godwin was twenty-four years old when she wrote: "I want to be everybody who is great; I want to create everything that has ever been created." It is a declaration that only a wildly ambitious young writer would make in the privacy of her journal. Now, in The Making of a Writer, Godwin has distilled her early journals, which run from 1961 to 1963, to their brilliant and charming essence. She conveys the feverish period following the breakup of her first marriage; the fateful decision to move to Europe and the shock of her first encounters with Danish customs (and Danish men); the pleasures of soaking in the human drama on long rambles through the London streets and the torment of lonely Sundays spent wrestling these impressions into prose; and the determination to create despite rejection and a growing stack of debts. "I do not feel like a failure," Godwin insists. "I will keep writing, harder than ever."

Brimming with urgency and wit, Godwin's inspiring tome opens a shining window into the life and craft of a great writer just coming into her own.

"A generous gift from a much-loved author to her readers."
–Chicago Sun-Times

"Full of lively, entertaining observations on the literary life . . . [captures] the spirit of a young writer's adventure into foreign lands and foreign realms of thought and creative endeavor."
–The Atlanta Journal-Constitution

"As cities and continents and men change, the entries are borne along by . . . the young Godwin's fierce conviction that she is meant to write fiction and her desire to distract herself from this mission with any man who catches her eye."
–The New York Times Book Review

"[Godwin] describes a high-wire act of love and work. . . . She espouses fierce, uncompromising ideas about fiction."
–Los Angeles Times

"[Gail Godwin's journals] are a gold mine."
–The Boston Globe
Praise For The Making of a Writer: Journals, 1961-1963…
"As a diarist myself I read Gail Godwin's diary with complicity, pleasure, suspense, annoyance, competitiveness, astonishment and, yes, a touch of jealousy. She holds her own gorgeously. It's writing about writing, from the inside out: what it means–and takes–to be a writer."
–Ned Rorem

"[Godwin shows] the ways in which a writer's imagination began to shape the material of her life into what later became notable stories and novels; it's remarkable, in fact, that someone who at twenty-four could write with such wit, perception and rueful self-knowledge would have to wait another half-dozen years before receiving any recognition for her gifts. In one despairing moment, Godwin writes, 'This journal has no earthly use or interest to anyone but Number One.' Profoundly untrue."
–Publishers Weekly (starred review)

"Apart from Bellow, I can think of only four American novelists–Michael Chabon, Gail Godwin, Craig Nova, and Anne Tyler–whose work could be submitted to an international competition with any confidence."
–Jonathan Yardley, The Washington Post Book World

"Gail Godwin is one of the best writers we have today."
–The Atlanta Journal-Constitution

"She is America's best living novelist."
–San Jose Mercury News

"One of the most intelligent and appealing of contemporary fiction writers."
–Chicago Sun-Times
Random House Trade Paperbacks, 9780812974690, 352pp.
Publication Date: January 30, 2007
About the Author
Gail Godwin is a three-time National Book Award nominee and the bestselling author of many critically acclaimed novels, including A Mother and Two Daughters, Violet Clay, Father Melancholy's Daughter, Evensong, The Good Husband, Evenings at Five, and, most recently, Queen of the Underworld. She is also the author of The Making of a Writer: Journals, 1961—1963, the first of two volumes, edited by Rob Neufeld. She has received a Guggenheim Fellowship and a National Endowment for the Arts grant for both fiction and libretto writing. She has written libretti for ten musical works with the composer Robert Starer. Visit the author's website at www.gailgodwin.com.

Rob Neufeld is a librarian and a book reviewer for the Asheville Citizen-Times. He directs the "Together We Read" program for Western North Carolina.
or
Not Currently Available for Direct Purchase