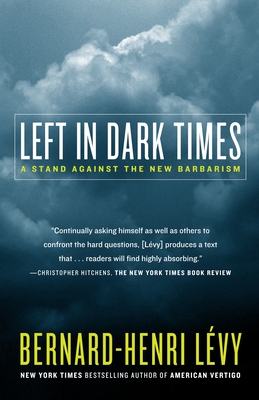 Left in Dark Times: A Stand Against the New Barbarism (Paperback)
A Stand Against the New Barbarism
Random House Trade, 9780812974720, 233pp.
Publication Date: October 13, 2009
Description
In this unprecedented critique, Bernard-Henri Levy revisits his political roots, scrutinizes the totalitarianisms of the past as well as those on the horizon, and argues powerfully for a new political and moral vision for our times. Are human rights Western or universal? Does anti-Semitism have a future, and, if so, what will it look like? And how is it that progressives themselves-those who in the past defended individual rights and fought fascism-have now become the breeding ground for new kinds of dangerous attitudes: an unthinking loathing of Israel; an obsessive anti-Americanism; an idea of "tolerance" that, in its justification of Islamic fanaticism, for example, could become the "cemetery of democracies"; and an indifference, masked by relativism, to the greatest human tragedies facing the world today? At a time of ideological and political transition in America, Left in Dark Times articulates the threats we all face-in many cases without our even being aware of it-and offers a powerful new vision for progressives everywhere.
About the Author
Bernard-Henri Levy is a philosopher, journalist, activist, and filmmaker. He was hailed by Vanity Fair magazine as "Superman and prophet: we have no equivalent in the United States." Among his dozens of books are American Vertigo, Barbarism with a Human Face, and Who Killed Daniel Pearl? His writing has appeared in a wide range of publications throughout Europe and the United States. His films include the documentaries Bosna! and A Day in the Death of Sarajevo. Levy is co-founder of the antiracist group SOS Racism and has served on diplomatic missions for the French government. From the Hardcover edition.
Praise For Left in Dark Times: A Stand Against the New Barbarism…
"[Lévy's] memories interlace with reflections on his long career of political activism . . . and are studded with passionately held positions on every issue current on the world stage. Whether or not you agree with him . . . you will be convinced of this: Ideas matter to him."—New York Observer

"Lévy offers as fine a description as you're likely to find anywhere of what the conventional international left . . . has adopted as its worldview. . . . [His] discussion of contemporary anti-Semitism is sophisticated, detailed and convincing."—Los Angeles Times

"Continually asking himself as well as others to confront the hard questions, [Lévy] produces a text that . . . readers will find highly absorbing."—New York Times Book Review

"Moving and inspiring . . . When political leaders commit atrocities, intellectuals remind the world of right and wrong. . . . Bernard-Henri Lévy, perhaps the most prominent intellectual in France today, seeks to revive this tradition of speaking truth to power."—Boston Globe
Advertisement