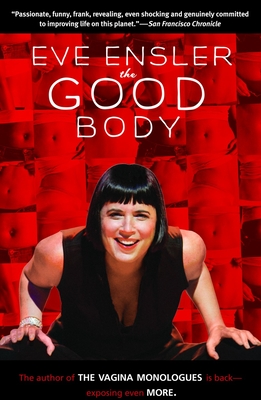 The Good Body
Paperback

* Individual store prices may vary.
Other Editions of This Title:
Digital Audiobook (11/8/2004)
Description
Botox, bulimia, breast implants: Eve Ensler, author of the international sensation The Vagina Monologues, is back, this time to rock our view of what it means to have a "good body." "In the 1950s," Eve writes, girls were "pretty, perky. They had a blond Clairol wave in their hair. They wore girdles and waist-pinchers. . . . In recent years good girls join the army. They climb the corporate ladder. They go to the gym. . . . They wear painful pointy shoes. They don't eat too much. They . . . don't eat at all. They stay perfect. They stay thin. I could never be good."

The Good Body starts with Eve's tortured relationship with her own "post-forties" stomach and her skirmishes with everything from Ab Rollers to fad diets and fascistic trainers in an attempt get the "flabby badness" out. As Eve hungrily seeks self-acceptance, she is joined by the voices of women from L.A. to Kabul, whose obsessions are also laid bare: A young Latina candidly critiques her humiliating "spread," a stubborn layer of fat that she calls "a second pair of thighs." The wife of a plastic surgeon recounts being systematically reconstructed–inch by inch–by her "perfectionist" husband. An aging magazine executive, still haunted by her mother's long-ago criticism, describes her desperate pursuit of youth as she relentlessly does sit-ups.

Along the way, Eve also introduces us to women who have found a hard-won peace with their bodies: an African mother who celebrates each individual body as signs of nature's diversity; an Indian woman who transcends "treadmill mania" and delights in her plump cheeks and curves; and a veiled Afghani woman who is willing to risk imprisonment for a taste of ice cream. These are just a few of the inspiring stories woven through Eve's global journey from obsession to enlightenment. Ultimately, these monologues become a personal wake-up call from Eve to love the "good bodies" we inhabit.
Praise For The Good Body…
Praise for Eve Ensler:
"Eve Ensler can soar to Rabelaisian heights or move us with quiet compassion. . . . She may not save the world, but what other playwrights even think of trying?"
–Time

Acclaim for The Vagina Monologues

"Spellbinding, funny, and almost unbearably moving . . . It is both a work of art and an incisive piece of cultural history, a poem and a polemic, a performance and a balm and a benediction."
–Variety

"The monologues are part of Eve Ensler's crusade to wipe out the shame and embarrassment that many women still associate with their bodies or their sexuality. [They] are both a celebration of women's sexuality and a condemnation of its violation."
–The New York Times

"Women have entrusted Eve with their most intimate experiences. . . . I think readers, men as well as women, will emerge from these pages feeling more free within themselves–and about each other."
–GLORIA STEINEM


Villard, 9780812974737, 112pp.
Publication Date: November 8, 2005
About the Author
EVE ENSLER is an internationally acclaimed playwright whose many works for the stage include Floating Rhonda and the Glue Man, Lemonade, Necessary Targets, and The Vagina Monologues, for which she received an Obie Award. Performances of The Vagina Monologues, sponsored by V-Day (www.vday.org), have raised $25 million to stop violence against abused women and girls around the world. She lives in New York City.