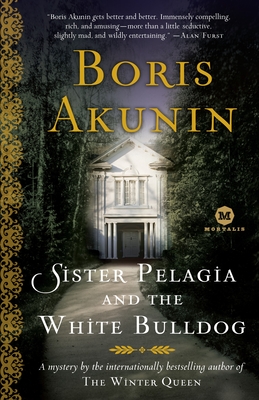 Sister Pelagia and the White Bulldog (Paperback)
Random House Trade, 9780812975130, 273pp.
Publication Date: January 30, 2007
* Individual store prices may vary.
or
Not Currently Available for Direct Purchase
Description
"Pelagia's family likeness to Father Brown and Miss Marple is marked, and reading about her supplies a similarly decorous pleasure."
-The Literary Review In a remote Russian province in the late nineteenth century, Bishop Mitrofanii must deal with a family crisis. After learning that one of his great aunt's beloved and rare white bulldogs has been poisoned, the Orthodox bishop knows there is only one detective clever enough to investigate the murder: Sister Pelagia. The bespectacled, freckled Pelagia is lively, curious, extraordinarily clumsy, and persistent. At the estate in question, she finds a whole host of suspects, any one of whom might have benefited if the old lady (who changes her will at whim) had expired of grief at the pooch's demise. There's Pyotr, the matron's grandson, a nihilist with a grudge who has fallen for the maid; Stepan, the penniless caretaker, who has sacrificed his youth to the care of the estate; Miss Wrigley, a mysterious Englishwoman who has recently been named sole heiress to the fortune; Poggio, an opportunistic and freeloading "artistic" photographer; and, most intriguingly, Naina, the old lady's granddaughter, a girl so beautiful she could drive any man to do almost anything. As Pelagia bumbles and intuits her way to the heart of a mystery among people with faith only in greed and desire, she must bear in mind the words of Saint Paul: "Beware of dogs-and beware of evil-doers." "Critics on both sides of the Atlantic have praised Akunin's] clever plots, vivid characters and wit."
-Baltimore Sun

"Akunin's wonderful novels are always intricately webbed and plotted."
-The Providence Journal
About the Author
Boris Akunin is the pen name of Grigory Chkhartishvili, who was born in the republic of Georgia in 1956. A philologist, critic, essayist, and translator of Japanese, Akunin published his first detective stories in 1998 and has become one of the most widely read authors in Russia. He is the author of the Erast Fandorin novels, including The Winter Queen, The Turkish Gambit, Murder on the Leviathan, The Death of Achilles, and Special Assignments, and Sister Pelagia and the White Bulldog, Sister Pelagia and the Black Monk, and Sister Pelagia and the Red Cockerel, in the Sister Pelagia series. He lives in Moscow. Andrew Bromfield was born in Hull in Yorkshire, England. Apart from his acclaimed translations of Boris Akunin, he is known for his translations of the stories and novels of Victor Pelevin, including The Life of Insects, Buddha's Little Finger, and Homo Zapiens.
Advertisement