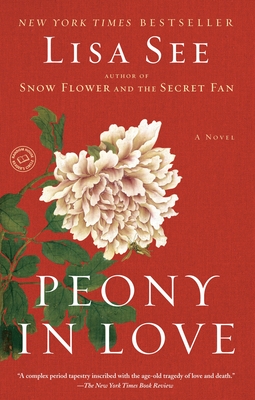 Peony in Love
A Novel
Paperback

* Individual store prices may vary.
Other Editions of This Title:
Digital Audiobook (7/2/2007)
Digital Audiobook (6/25/2007)
Hardcover (6/26/2007)
Description
"I finally understand what the poets have written. In spring, moved to passion; in autumn only regret."

For young Peony, betrothed to a suitor she has never met, these lyrics from The Peony Pavilion mirror her own longings. In the garden of the Chen Family Villa, amid the scent of ginger, green tea, and jasmine, a small theatrical troupe is performing scenes from this epic opera, a live spectacle few females have ever seen. Like the heroine in the drama, Peony is the cloistered daughter of a wealthy family, trapped like a good-luck cricket in a bamboo-and-lacquer cage. Though raised to be obedient, Peony has dreams of her own.

Peony's mother is against her daughter's attending the production: "Unmarried girls should not be seen in public." But Peony's father assures his wife that proprieties will be maintained, and that the women will watch the opera from behind a screen. Yet through its cracks, Peony catches sight of an elegant, handsome man with hair as black as a cave–and is immediately overcome with emotion.

So begins Peony's unforgettable journey of love and destiny, desire and sorrow–as Lisa See's haunting new novel, based on actual historical events, takes readers back to seventeenth-century China, after the Manchus seize power and the Ming dynasty is crushed.

Steeped in traditions and ritual, this story brings to life another time and place–even the intricate realm of the afterworld, with its protocols, pathways, and stages of existence, a vividly imagined place where one's soul is divided into three, ancestors offer guidance, misdeeds are punished, and hungry ghosts wander the earth. Immersed in the richness and magic of the Chinese vision of the afterlife, transcending even death, Peony in Love explores, beautifully, the many manifestations of love. Ultimately, Lisa See's new novel addresses universal themes: the bonds of friendship, the power of words, and the age-old desire of women to be heard.
Praise For Peony in Love: A Novel…
"A complex period tapestry inscribed with the age-old tragedy of love and death."—The New York Times Book Review

"Electrifying . . . a fascinating and often surprising story of women helping women, women hurting women and women misunderstanding each other."—The Miami Herald

"See mines an intriguing vein of Chinese history . . . weaving fact and fiction into a dense romantic tapestry of time and place as she meditates on the meaning of love, the necessity of self-expression and the influence of art."—Los Angeles Times

"A transporting read, to lost worlds earthly and otherwise."—Chicago Tribune

"A quietly beautiful tale that sneaks into the reader's heart . . . Not since Susie Salmon of Alice Sebold's The Lovely Bones has a ghostly narrator been as believable and empathetic."—San Antonio Express-News

"There's much here to be savored and a great deal to be learned."—The Washington Post Book World
Random House Trade Paperbacks, 9780812975222, 320pp.
Publication Date: February 19, 2008
About the Author
Lisa See is the New York Times bestselling author of Snow Flower and the Secret Fan, Flower Net (an Edgar Award nominee), The Interior, and Dragon Bones, as well as the critically acclaimed memoir On Gold Mountain. The Organization of Chinese American Women named her the 2001 National Woman of the Year. She lives in Los Angeles. Visit the author's website: www.LisaSee.com.
To schedule a speaking engagement, please contact American Program Bureau at www.apbspeakers.com  
First and foremost, Peony in Love is about love. What are the different kinds of love that Peony experiences? How does Peony's love for Ren change through the years? Have you had similar experiences in your life?
In what ways is mother love explored? How does it change from a mother's or daughter's perspective? Do these things still hold true for mothers and daughters today?
What does Peony learn about mother love and in what ways does she experience it herself?
One thousand years ago, the poet Han Yun wrote, "All things not at peace will cry out." What do you think he meant by that? And in what ways does this inspire Peony and the other women writers in the novel?
In what ways does Peony long to be heard? Do you think women today are really heard for who they are? In what ways have you tried to be heard?
What are the parallels between the lovesick maidens and girls with anorexia nervosa today?
We see a difference in Peony's actions after Ze marries Ren and again after Ze dies. Do you see redemption here for Peony?
Could you sympathize with Peony's actions in the years immediately following her death? Which of the three wives do you sympathize with the most, and why?
What are the differences and similarities between the Chinese afterworld and western concepts of heaven and hell? Which seem better? Which would you prefer — for yourself and for your loved ones?
How does what happened during the Cataclysm change depending on who's telling the story?
How do Peony's experiences as a living girl and then as a hungry ghost parallel Liniang's experiences in "The Peony Pavilion"?
In what ways do you feel Peony's eyes were opened to the reality of her father's real character?
Compare the actions of Peony's mother and grandmother after they meet in death with their actions when they were alive.
Peony in Love shows the strength of women and women's companionship, but in what ways does it also show the dark shadow side of women whether in the women's chambers, between a mother and daughter, between wives, or even between friends?
The novel looks at the Chinese veneration of ancestors as well as the desire to have sons. How are these two beliefs connected?
Lisa has written before about footbinding. What's the importance of footbinding in this novel? What does Peony learn about life and love through her experiences of footbinding? What do you think caused the change in Peony's ability to assist in footbinding?
What role does the plum tree play in the opera of "The Peony Pavilion" and in Peony in Love?
How are jealousy and envy addressed in the novel?
Were you surprised to hear about the women writers in China in the 17th century? Do you think it's important that we know about them today?
Compare the roles of women in China in the 1600s to the roles of women in the United States in the same period.