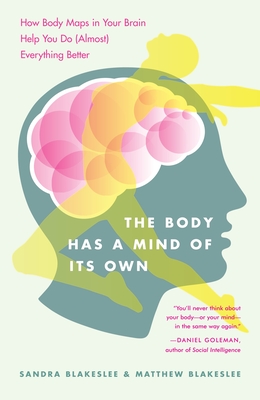 The Body Has a Mind of Its Own
How Body Maps in Your Brain Help You Do (Almost) Everything Better
Paperback

* Individual store prices may vary.
Other Editions of This Title:
Hardcover (9/11/2007)
Description
Your body has a mind of its own. You know it's true. You can sense it, even though it may be hard to articulate. You know that your body is more than a vehicle for your brain to cruise around in, but how deeply are mind and body truly interwoven?

Answers can be found in the emerging science of body maps. Just as road maps represent interconnections across the landscape, your many body maps represent all aspects of your bodily self. Your self doesn't begin and end with your physical body but extends into the space around you. When you drive a car, your personal body space grows to envelop it. When you play a video game, your body maps automatically track and emulate the actions of your character onscreen. If your body maps fall out of sync, you may have an out-of-body experience or see auras around other people.

The Body Has a Mind of Its Own explains how you can tap into the power of body maps to do almost anything better: play tennis, strum a guitar, ride a horse, dance a waltz, empathize with a friend, raise children, cope with stress. Filled with illustrations, wonderful anecdotes, and even parlor tricks that you can use to reconfigure your body sense, The Body Has a Mind of Its Own will change the way you think about what it takes to have a conscious mind inside a feeling body.

Praise for The Body Has a Mind of Its Own

NAMED ONE OF THE BEST BOOKS OF THE YEAR BY THE WASHINGTON POST BOOK WORLD

"You'll never think about your body–or your mind–in the same way again."
–Daniel Goleman, author of Social Intelligence

"A fascinating exploration of senses we didn't even know we had."
–Jon Kabat-Zinn, author of Coming to Our Senses

"A delightfully original, understandable, and mind-stretching work."
–William Safire, columnist, The New York Times Magazine

"A marvelous book."
–V. S. Ramachandran, M.D., director, Center for Brain and Cognition, University of California, San Diego

"[An] accessible, practical overview of an important scientific story."
–Antonio Damasio, author of Descartes' Error
Random House Trade Paperbacks, 9780812975277, 240pp.
Publication Date: September 9, 2008
About the Author
Sandra Blakeslee is a regular contributor to The New York Times who specializes in the brain sciences. She has co-written many books, including Phantoms in the Brain with V. S. Ramachandran, On Intelligence with Jeff Hawkins, and Second Chances: Men, Women and Children a Decade After Divorce with Judith S. Wallerstein. She is the third generation in a family of science writers.

Matthew Blakeslee is a freelance science writer in Los Angeles. He represents the fourth generation of Blakeslee science writers. This is his first book.
or
Not Currently Available for Direct Purchase