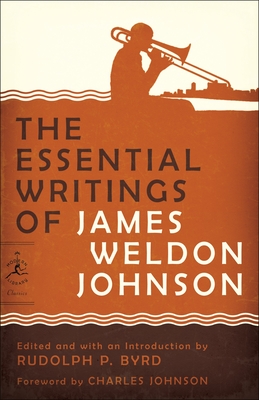 The Essential Writings of James Weldon Johnson (Paperback)
Modern Library, 9780812975321, 321pp.
Publication Date: October 21, 2008
Description
"A canonical collection, splendidly and sensitively edited by Rudolph Byrd."
-Henry Louis Gates, Jr.
One of the leading voices of the Harlem Resaissance and a crucial literary figure of his time, James Weldon Johnson was also an editor, songwriter, founding member and leader of the NAACP, and the first African American to hold a diplomatic post as consul to Venezuela and Nicaragua. This comprehensive volume of Johnson's works includes the seminal novel Autobiography of an Ex-Colored Man, poems from God's Trombones, essays on cultural and political topics, selections from Johnson's autobiography, Along This Way, and two previously unpublished short plays: Do You Believe in Ghosts? and The Engineer. Featuring a chronology, bibliography, and a Foreword by acclaimed author Charles Johnson, this Modern Library edition showcases the tremendous range of James Weldon Johnson's writings and their considerable influence on American civic and cultural life.
"This collection of poetry, fiction, criticism, autobiography, political writing and two unpublished plays by James Weldon Johnson (1871-1938) spans 60 years of pure triumph over adversity. ....Johnson's] nobility, his inspiration shine forth from these pages, setting moral and artistic standards." --Los Angeles Times

About the Author
James Weldon Johnson (1871-1938)-novelist, poet, lawyer, editor, ethno-musicologist-was also the co-author (with his brother, J. Rosamond Johnson) of the hymn "Lift Every Voice and Sing," widely accepted as the "Negro National Anthem." Rudolph P. Byrd is professor of American studies and founding director of the James Weldon Johnson Institute at Emory University. His books include Charles Johnson's Novels: Writing the American Palimpsest. Charles Johnson is the National Book Award-winning author of Middle Passage and Dreamer.
Advertisement