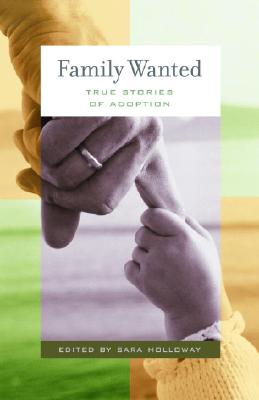 Family Wanted: Stories of Adoption (Paperback)
Stories of Adoption
Random House Trade, 9780812975475, 302pp.
Publication Date: July 1, 2006
* Individual store prices may vary.
or
Not Currently Available for Direct Purchase
Description
Personal essays by Meg Bortin - Sarah Cameron - Dan Chaon - Dominic Collier - Bernard Cornwell - Robert Dessaix - Matthew Engel - Paula Fox - A. M. Homes - Tama Janowitz - Lynn Lauber - Carol Lefevre - Daniel Menaker - Priscilla T. Nagle - Sandra Newman - Mirabel Osler - Emily Prager - Jonathan Rendall - Martin Rowson - Abigail Rubin - Lise Saffran - Lindsay Sagnette - Hannah wa Muigai - Jeanette Winterson - Mark Wormald Adoption, until recently a hidden subject, has become an open field of psychological study, policy debate, and ethical interest. Family Wanted is an honest, heartwarming, and heartbreaking collection featuring important authors personally involved in all sides of adoption. Here are more than twenty pieces, many published for the first time. Among the contributors are Paula Fox, an adoptee herself, who meets the daughter she didn't raise and finds she is "the first woman related to me I could speak to freely"; Bernard Cornwell, adopted by a now-defunct religious cult, who responds by converting to "atheism and frivolity"; African author Hannah wa Muigai, who recounts being impregnated as a teenager by an older lover-whom she then found in bed with another man; Tama Janowitz, who to her comical shock learns to love the "hyperactive sweating lunatic" she adopted in China; and Daniel Menaker, who as an adoptive father becomes less concerned with the cause-and-effect of heredity and more content with "the lottery that to a large extent is everyone's life." "Gripping . . . Family Wanted] pulls the reader through a] variety of emotions. . . . Some families work, others don't. This anthology does."
-The Guardian (London)
About the Author
Sara Holloway was a publishing director at Granta Books. She is the editor of Family Wanted: Stories of Adoption, which "demonstrates with absolute clarity how the process can be heart-rending for all sides" (The Guardian).
Advertisement