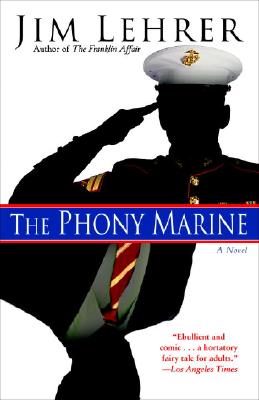 The Phony Marine (Paperback)
Random House Trade, 9780812975512, 209pp.
Publication Date: April 8, 2008
* Individual store prices may vary.
or
Not Currently Available for Direct Purchase
Description
Veteran newsman and acclaimed novelist Jim Lehrer exposes worlds both intimate and universal, builds suspense with an accomplished hand, and reveals a savvy understanding of the modern social landscape. With The Phony Marine, Lehrer dives into a highly controversial topic-and delivers his most compelling character portrait to date.
Hugo Marder is about as unremarkable as they come. On the floor of the Washington, D.C., branch of Nash Brothers, one of the country's most respected men's stores, Hugo is a wise, reserved salesman. At home, he is a solitary, divorced fifty-year-old with few friends and an eBay addiction. But he has always wanted to make more of his life, dreaming of becoming an artist or a cartoonist. When he was younger, he'd always wanted to be a marine.
Late one night, Hugo stumbles upon an online auction for a Silver Star, the medal awarded for bravery in battle. He bids and wins. But it is only after he places the lapel pin on his jacket that he realizes the enormity of his actions. Suddenly, ordinary people begin to treat him differently, with dignity and respect. Is he really going to pretend the honor is his own?
As Hugo wrestles with his conscience, a transformation begins to take place. He studies the life of a marine, learns the military terminology, body-builds at the gym, even gets a crew cut. When he is reborn as a former marine, his life immediately changes. Is it possible that his deception has unlocked the man he always wanted to be? Through numerous challenges and more than one terrifying ordeal, Hugo Marder must prove his worth. And in the end, he must ask himself: What is a hero?
Alive with detail, emotional depth, and unexpected twists of plot,
The Phony Marine
is a tense, revelatory work of fiction that will cause every reader to consider his or her own stance on what truly makes someone great.
From the Hardcover edition.
About the Author
Jim Lehrer served as a Marine Corps infantry officer in the 1950s. His father and brother were also marines. This is his sixteenth novel. He's also the author of two memoirs and three plays and is the executive editor and anchor of The NewsHour with Jim Lehrer on PBS. He lives in Washington, D.C., with his novelist wife, Kate. They have three daughters. From the Hardcover edition.
Advertisement