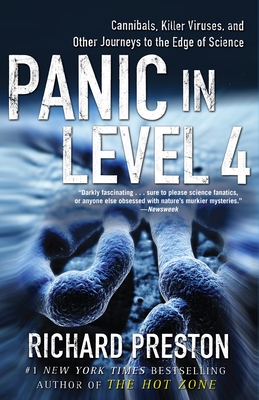 Panic in Level 4: Cannibals, Killer Viruses, and Other Journeys to the Edge of Science (Paperback)
Cannibals, Killer Viruses, and Other Journeys to the Edge of Science
Random House Trade, 9780812975604, 194pp.
Publication Date: June 16, 2009
* Individual store prices may vary.
or
Not Currently Available for Direct Purchase
Description
Panic in Level 4 is a grand tour through the eerie and unforgettable universe of Richard Preston, filled with incredible characters and mysteries that refuse to leave one's mind. Here are dramatic true stories from this acclaimed and award-winning author, including - the phenomenon of "self-cannibals," who suffer from a rare genetic condition caused by one wrong letter in their DNA that forces them to compulsively chew their own flesh-and why everyone may have a touch of this disease
- the search for the unknown host of Ebola virus, an organism hidden somewhere in African rain forests, where the disease finds its way into the human species, causing outbreaks of unparalleled horror
- the brilliant Russian brothers-"one mathematician divided between two bodies"-who built a supercomputer in their apartment from mail-order parts in an attempt to find hidden order in the number pi (π) In exhilarating detail, Preston portrays the frightening forces and constructive discoveries that are currently roiling and reordering our world, once again proving himself a master of the nonfiction narrative.
About the Author
Richard Preston is the bestselling author of The Hot Zone, The Demon in the Freezer, The Wild Trees, and the novel The Cobra Event. A writer for The New Yorker since 1985, Preston is the only nondoctor to have received the Centers for Disease Control's Champion of Prevention Award. He also holds an award from the American Institute of Physics. Preston lives outside of New York City.
Praise For Panic in Level 4: Cannibals, Killer Viruses, and Other Journeys to the Edge of Science…
"Compelling . . . stories of high scientific adventure."—Seattle Times

"[Preston's] stories sparkle with images of stark beauty and darkness; mature reflections about the complex worlds we all occupy."—Denver Post

"With his 1994 sensation The Hot Zone, science writer Richard Preston terrified millions. . . . In his new book, Panic in Level 4, he continues to probe nature's stranger side."—USA Today

Advertisement