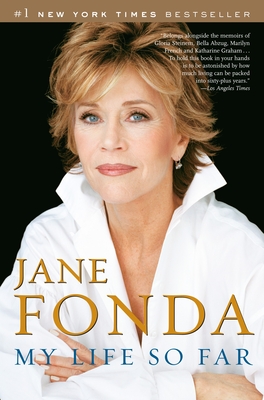 My Life So Far (Paperback)
Random House Trade, 9780812975765, 599pp.
Publication Date: April 4, 2006
Description
In the process of writing this book I discovered there were clear, broad, even universal themes that ran through my life, a coherent arc to my journey that, if I could be truthful in the telling, might provide a road map for other women as they face the challenges of relationships, self-image, and forgiveness. What I did not anticipate was how my journey would also resonate with men.
America knows Jane Fonda as actress and activist, feminist and wife, workout guru and role model. In this extraordinary memoir, Fonda shows that she is much more. From her youth among Hollywood's elite to her film career and her activism today, Fonda reveals intimate details and personal truths she hopes can provide a lens through which others can see their lives and how they can live them a little differently. Surprising, candid, and wonderfully written, My Life So Far is filled with insights into the personal struggles of a woman living a remarkable life.
About the Author
JANE FONDA was born in New York City in 1937. She attended the Emma Willard School in Troy, New York, and Vassar College. Fonda later studied with renowned acting coach Lee Strasberg and became a member of the Actors Studio in New York. Her subsequent work on stage and screen earned numerous honors, including two Best Actress Academy Awards Klute (1971) and Coming Home (1978) and an Emmy Award for her performance in The Dollmaker. Fonda was also a successful producer, whose credits include The China Syndrome, Nine to Five, On Golden Pond, and The Morning After. Fonda revolutionized the fitness industry with the release of Jane Fonda s Workout in 1982, which remains the top-grossing home video of all time. She then produced twenty-three home exercise videos, thirteen audio recordings, and five bestselling books. She now focuses her time on activism and philanthropy, in such areas as adolescent reproductive health, pregnancy prevention, school reform through arts, and building resiliency in girls and boys by addressing destructive gender stereotypes. In 1995 she founded the Georgia Campaign for Adolescent Pregnancy Prevention (G-CAPP), which she chairs. In 2002, she opened the Jane Fonda Center for Adolescent Reproductive Health at Emory University's School of Medicine. She lives in Atlanta. From the Hardcover edition."
Praise For My Life So Far…
"Belongs alongside the memoirs of Gloria Steinem, Bella Abzug, Marilyn French and Katharine Graham. . . . To hold this book in your hands is to be astonished by how much living can be packed into sixty-plus years."
–Los Angeles Times


"[A] sisterly, enveloping memoir . . . an intimate, haunting book that might as well be catnip from its ever controversial author."
–Janet Maslin, The New York Times

"Terrific . . . rich . . . unexpectedly quite moving."
–San Francisco Chronicle

"Fiercely intelligent, detailed, probing, rigorously revealing."
–O: The Oprah Magazine

"Fonda possesses a raw and affecting candor. . . . Her honesty [is] a force."
–The Philadelphia Inquirer

"A fearless book . . . fascinating."
–Chicago Sun-Times

"Truly compelling."
–The Atlanta Journal-Constitution

"Riveting."
–Seattle Post-Intelligencer
Advertisement