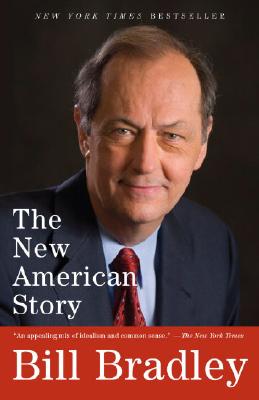 The New American Story (Paperback)
Random House Trade Paperbacks, 9780812975796, 384pp.
Publication Date: January 8, 2008
* Individual store prices may vary.
Description
"Politics is stuck," writes Bill Bradley, in this insightful, informative, and provocative book about America at a crossroads, but "idealism isn't dead. It can be reawakened."

What will it take to make America a better, stronger, truer country? asks the bestselling author, former Knicks star, and onetime presidential candidate. Bill Bradley believes that America is at a teachable moment when we are compelled to reevaluate our political system, our leadership, our agenda as a nation, and ourselves as citizens. With clarity and urgency, Bradley shows why the story we are being told now about who we are as a people is not true. He then offers a new story about our nation, based on America's rich heritage and his belief in the character of the American people. Bradley explores what changes need to be made in our parties, in our politics, and in citizen activism to ensure America's future. He asserts that the American people are ready for the truth and suggests that the party that chooses to embrace this new story will be in power for a generation.

Writing from his own experience in politics and drawing on his knowledge of history, Bradley shows how the Republican Party has built a solid pyramid structure since the 1970s, at the base of which are money, ideas, and media, whereas the Democratic Party's structure is an inverted pyramid, with too much emphasis put on the need for a charismatic leader to hold the pyramid up. Each party, for different reasons, fails to deal with the real issues that now confront America.

This informed and inspiring call to action is addressed not only to the parties and elected leaders, but to citizens as well. Bradley proposes things every American can do to shape our nation's future. He points out that if eighty percent of the electorate voted, instead of fifty percent, it would be the most important change in American politics since women got the vote. Now more than ever, he says, we need to embrace an "ethic of connectedness," a combination of collective action and individual responsibility, to solve our nation's most pressing problems, and he argues that the fate of all countries is bound together as never before. Writing today with the freedom of a private citizen, Bradley provides this transformative and eye-opening book about the danger and the promise of America's choice at this crucial moment in the nation's history.


From the Hardcover edition.
About the Author
Bill Bradley has been a three-time basketball All-American at Princeton, an Olympic gold medalist, a Rhodes scholar, and a professional player for ten years with the New York Knicks. Elected to the Senate from New Jersey in 1978, 1984, and 1990, he has authored extensive legislation, including the Tax Reform Act of 1986. Bradley is the author of five other books: Time Present, Time Past, a New York Times bestseller about his life as a senator and his travels throughout the country; Values of the Game, another New York Times bestseller; The Journey from Here; The Fair Tax; and Life on the Run. Bill Bradley is married and has one daughter; he is currently a managing director at Allen & Company LLC in New York.


From the Hardcover edition.
or
Not Currently Available for Direct Purchase