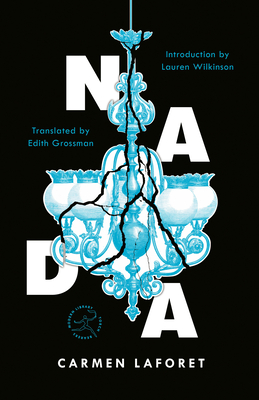 nada (Paperback)
Modern Library, 9780812975833, 244pp.
Publication Date: February 12, 2008
Description
One of the most important literary works of post-Civil War Spain, Nada is the semiautobiographical story of an orphaned young woman who leaves her small town to attend university in war-ravaged Barcelona. Edith Grossman's vital new translation captures Carmen Laforet's feverish energy, powerful imagery, and subtle humor. Nada, which includes an illuminating Introduction by Mario Vargas Llosa, is one of the great novels of twentieth-century Europe. "Laforet vividly conveys the strangeness of Barcelona in the 1940s, a city that has survived civil war only to find itself muted by Franco's dictatorship...The spirit of sly resistance that Laforet's novel expresses, its heroine's determination to escape provincial poverty and to immerse herself in 'lights, noises, the entire tide of life, ' has lost none of its power of persuasion." -- The New York Times Book Review

"That this complex, mature and wise novel was written by someone in her early 20s is extraordinary....But after six decades, this first novel has lost none of its power and originality, and we are fortunate to have it in this fine translation."-- The Washington Post, chosen as a Washington Post Best Book of the Year "Nada does indeeed recall Sartre and Camus, but it is fresher and more vibrant than either, and with its call to intuition and feelings rather than intellect, it cuts deeper.... A] mesmerizing new translation....a beautiful evocation of the tidal wave of late adolescent feeling.... Laforet] wrote Nada when she was only 23, yet the book resonates with frightening maturity, sadness and depth...a work of genius." -- Los Angeles Times "A brilliantly subtle book whose power lies in what goes unsaid..."Nada" is a skillfully written, multifaceted novel, and its eerie relevance to today's political climate and social attitudes is difficult to ignore." -- The San Francisco Chronicle "Laforet's moody and sepulchral debut novel...has been given new life by acclaimed translator Grossman....Andrea's narration is gorgeously expressive, rippling with emotion and meaning...fans of European lit will welcome this Spanish Gothic to the States with open arms and a half-exasperated, "What took you so long?"-Publisher's Weekly (starred review) "This Modern Library edition should be a keeper." -- Milwaukee Journal Sentinel "Carmen Laforet finds new life with this beautiful translation...dazzling in its approach...Laforet's talent in addressing complex familial and social issues us nothing short of amazing...her wiser-than-thou nature and clever handling of bitter dialogue are] the mark of a truly gifted writer.....a timeless work of art." -- The Fredericksburg Free Lance Star "Nada is neither moralist, nor prolix, unlike most other Spanish literature of the time and before. This is a modern voice, philosophically and stylistically, talking to us in freedom from the darkest hours of the victory of fascism....remarkably sophisticated." -- The Independent " A] remarkable achievement...Nada's work is sui generis, a gothic horror story which deserves the widest possible readership." -- The Sunday Herald "Edith Grossman's translation makes the rich, dense descriptions....sound perfectly natural in English; not a beat is missed, not an adjective misplaced. Let us hope that her fine, readable version will enable Nada to achieve, in the English-reading world, the perennial popularity of a great twentieth-century novel." -- TLS

About the Author
Carmen Laforet (1921-2004) had a profound impact on Spanish literature. Her debut novel, Nada, was awarded the first Premio Nadal in 1944. She is also wrote a collection of short stories and five other novels, including Al doblar la esquina (Around the Block) and La mujer nueva (The New Woman), which won Spain's National Prize for Literature in 1955. Edith Grossman is the distinguished translator of works by many other Spanish and Latin American writers, including Miguel de Cervantes, Gabriel Garcia Marquez, Mario Vargas Llosa, and Alvaro Mutis. She is the recipient of two Translation of the Year awards from the American Literary Translators Association, and the 2006 PEN Ralph Manheim Medal for Translation. She lives in New York City. Mario Vargas Llosa is one of Latin America's preeminent fiction writers and essayists. His novels include The Feast of the Goat, The Notebooks of Don Rigoberto, and Aunt Julia and the Scriptwriter. From the Hardcover edition.
Praise For nada…
"Laforet vividly conveys the strangeness of Barcelona in the 1940s, a city that has survived civil war only to find itself muted by Franco's dictatorship…The spirit of sly resistance that Laforet's novel expresses, its heroine's determination to escape provincial poverty and to immerse herself in 'lights, noises, the entire tide of life,' has lost none of its power of persuasion." — The New York Times Book Review

"That this complex, mature and wise novel was written by someone in her early 20s is extraordinary….But after six decades, this first novel has lost none of its power and originality, and we are fortunate to have it in this fine translation."-- The Washington Post, chosen as a Washington Post Best Book of the Year

"Nada does indeeed recall Sartre and Camus, but it is fresher and more vibrant than either, and with its call to intuition and feelings rather than intellect, it cuts deeper….[A] mesmerizing new translation….a beautiful evocation of the tidal wave of late adolescent feeling….[Laforet] wrote Nada when she was only 23, yet the book resonates with frightening maturity, sadness and depth…a work of genius." — Los Angeles Times

"A brilliantly subtle book whose power lies in what goes unsaid…"Nada" is a skillfully written, multifaceted novel, and its eerie relevance to today's political climate and social attitudes is difficult to ignore." -- The San Francisco Chronicle

"Laforet's moody and sepulchral debut novel…has been given new life by acclaimed translator Grossman….Andrea's narration is gorgeously expressive, rippling with emotion and meaning…fans of European lit will welcome this Spanish Gothic to the States with open arms and a half-exasperated, "What took you so long?"–Publisher's Weekly (starred review)

"This Modern Library edition should be a keeper." — Milwaukee Journal Sentinel

"Carmen Laforet finds new life with this beautiful translation…dazzling in its approach…Laforet's talent in addressing complex familial and social issues us nothing short of amazing…her wiser-than-thou nature and clever handling of bitter dialogue [are] the mark of a truly gifted writer…..a timeless work of art." -- The Fredericksburg Free Lance Star

"Nada is neither moralist, nor prolix, unlike most other Spanish literature of the time and before. This is a modern voice, philosophically and stylistically, talking to us in freedom from the darkest hours of the victory of fascism….remarkably sophisticated." -- The Independent

"[A] remarkable achievement…Nada's work is sui generis, a gothic horror story which deserves the widest possible readership." — The Sunday Herald

"Edith Grossman's translation makes the rich, dense descriptions....sound perfectly natural in English; not a beat is missed, not an adjective misplaced. Let us hope that her fine, readable version will enable Nada to achieve, in the English-reading world, the perennial popularity of a great twentieth-century novel."—TLS

Advertisement