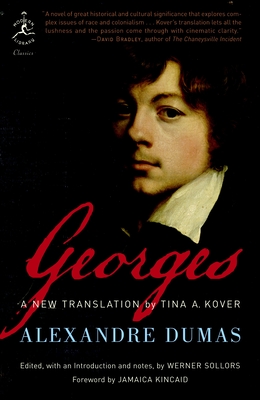 Georges (Modern Library Classics) (Paperback)
Modern Library, 9780812975895, 336pp.
Publication Date: June 10, 2008
Other Editions of This Title:
Paperback (2/12/2017)
Paperback, French (12/4/2017)
Paperback, French (6/9/2020)
Paperback, French (9/14/2018)
Paperback, French (7/23/2014)
Paperback, French (8/9/2017)
Paperback, French (8/17/2012)
Paperback, French (7/1/2018)
Paperback, French (3/25/2016)
Hardcover (5/1/2007)
Paperback, French (10/29/2019)
* Individual store prices may vary.
Description
Long out of print in America, Alexandre Dumas's most daring narrative is now available in this major new translation by Tina A. Kover. Filled with intrigue, romance, and deadly vengeance, Georges is the story of a wealthy mulatto boy who is driven from his island home by racist landowners. Returning to Mauritius as an accomplished young man, Georges pits his strength against a powerful plantation owner, leading a dramatic slave uprising and claiming the heart of a beautiful white woman. Georges stands apart as the only book by Dumas that explores the potent subject of race.

Praise for Georges:

"A rousing and vivid adventure . . . packed with action and atmosphere."
–The Columbus Dispatch

"A remarkable discovery . . . We are indebted to Werner Sollors and Jamaica Kincaid for providing us with a critical lens for the journey Dumas has created out of his own generous and expansive imagination."
–Rudolph P. Byrd, Emory University


"As compelling and relevant today as it was back in the 1840s, when it was first published."
–Adrienne Kennedy, author of Funnyhouse of a Negro
About the Author
Alexandre Dumas (1802-70), one of the most popular writers of all time, is the author of The Count of Monte Cristo, The Three Musketeers, and The Knight of Maison-Rouge (all available from the Modern Library), along with dozens of other works of every genre. His remains were recently removed to the Pantheon, the highest honor that can be bestowed on a French writer.

Tina A. Kover has worked as a translator in the United States and Europe for more than ten years. Her first literary translation, George Sand's The Black City, was published in 2004.

Werner Sollors teaches African American studies, English, and comparative literature at Harvard University. He is the author of Beyond Ethnicity: Consent and Descent in American Culture and Neither Black Nor White Yet Both: Thematic Explorations of Interracial Literature and editor of Theories of Ethnicity: A Classical Reader; The Life Stories of Undistinguished Americans as Told by Themselves and An Anthology of Interracial Literature: Black-White Contacts in the Old World and the New.

Jamaica Kincaid is the acclaimed author of many books, including Annie John, A Small Place, and Lucy. She lives in Vermont.
Praise For Georges (Modern Library Classics)…
"Georges is an illuminating, instructive, and enduring blueprint of racial conflict and strife, as compelling and relevant today as it was back in the 1840s, when it was first published."
–Adrienne Kennedy, author of Funnyhouse of a Negro

"I know this is a novel of great historical and cultural significance and that it explores complex issues of race and colonialism and all, but what matters to a guy like me is, it's a hell of a read. Sea battles and land battles, a steamy setting and hot-blooded gallantries, ancient enmities and sweet revenge, forbidden love, insults and duels, bravado and bravery and redemption, hot pursuit and desperate flight and crushing captures and daring escapes. What a story! And Kover's translation lets all the lushness and the romance and the passion come through with cinematic clarity."
–David Bradley, author of The Chaneysville Incident

"A remarkable discovery that expands the corpus of Alexandre Dumas. Rendered in beautiful language, this is a tale that transports us to a time and place that still speaks to us in our present circumstances. We are indebted to Werner Sollors and Jamaica Kincaid for their framing documents that provide us with a critical lens for the journey Dumas has created for us out of his own generous and expansive imagination."
–Rudolph P. Byrd, Emory University

"A brilliant example of the French Romantic novel, far too infrequently read and . . . deserving of a broader audience."
–Barbara T. Cooper, professor of French, University of New Hampshire