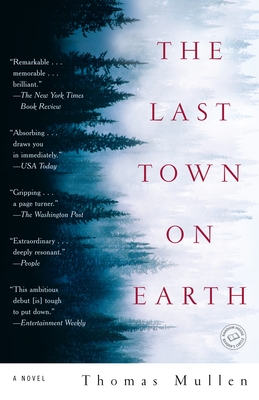 The Last Town on Earth
A Novel
Paperback

* Individual store prices may vary.
Other Editions of This Title:
Digital Audiobook (6/26/2008)
Compact Disc (8/1/2006)
Description
A town under quarantine during the 1918 flu epidemic must reckon with forces beyond their control in a powerful, sweeping novel of morality in a time of upheaval
 
"An American variation on Albert Camus' The Plague."—Chicago Tribune
 
NAMED ONE OF THE BEST BOOKS OF THE YEAR BY USA TODAY AND CHICAGO TRIBUNE • WINNER OF THE JAMES FENIMORE COOPER PRIZE FOR HISTORICAL FICTION

Deep in the mist-shrouded forests of the Pacific Northwest is a small mill town called Commonwealth, conceived as a haven for workers weary of exploitation. For Philip Worthy, the adopted son of the town's founder, it is a haven in another sense—as the first place in his life he's had a loving family to call his own.

And yet, the ideals that define this outpost are being threatened from all sides. A world war is raging, and with the fear of spies rampant, the loyalty of all Americans is coming under scrutiny. Meanwhile, another shadow has fallen across the region in the form of a deadly virus striking down vast swaths of surrounding communities.

When Commonwealth votes to quarantine itself against contagion, guards are posted at the single road leading in and out of town, and Philip Worthy is among them. He will be unlucky enough to be on duty when a cold, hungry, tired—and apparently ill—soldier presents himself at the town's doorstep begging for sanctuary. The encounter that ensues, and the shots that are fired, will have deafening reverberations throughout Commonwealth, escalating until every human value—love, patriotism, community, family, friendship—not to mention the town's very survival, is imperiled.

Inspired by a little-known historical footnote regarding towns that quarantined themselves during the 1918 epidemic, The Last Town on Earth is a remarkably moving and accomplished debut.
Praise For The Last Town on Earth: A Novel…
"Provocative . . . dramatic . . . A brisk pace and good storytelling bring to life a historical period that seems as fraught and fascinating as our own. . . . The Last Town on Earth asks important questions and has contemporary resonance."—The Seattle Times
 
"A gripping story . . . Mullen carefully balances the tensions and events of this historic time."—The Sunday Oregonian
 
"In his remarkable first novel, Thomas Mullen employs a theme as old as Sophocles' plague-ridden Thebes and as modern as Camus' Oran. . . . A brilliant series of plot twists is set in motion. . . . Time and again, Mullen's suspenseful storytelling pulls us forward. Time and again, his imagery . . . is devastatingly right."—The New York Times Book Review
 
"Absorbing . . . both a moving coming-of-age saga and an intriguing portrait of a town in trouble."—USA Today
 
"Gripping . . . [a] page-turner . . . psychological suspense, villains, victims, a conflicted hero or two, secrets and a mystery. In short, it's a grabber. . . . [Mullen has] a killer insight . . . the kind of writing that makes The Last Town on Earth . . . a worthy place to visit."—The Washington Post
 
"Extraordinary . . . Mullen gracefully interweaves story arcs—a poignant romance among them—and evokes a powerful sense of place. . . . His tale is deeply resonant."—People (four stars)
 
"Mullen provides a rich historical background and a well-drawn cast of characters. . . . A fascinating account of a time and a place that most of us have never heard about, all without going overboard in sentimentality or kitsch."—Los Angeles Times
Random House Trade Paperbacks, 9780812975925, 432pp.
Publication Date: July 31, 2007
About the Author
Thomas Mullen was born in Rhode Island and lives in Washington, D.C., with his wife. He is at work on a new novel.