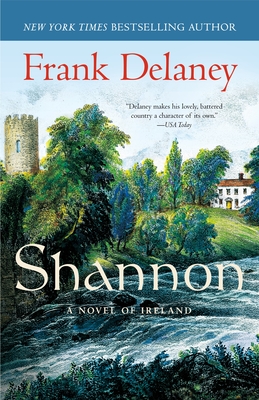 Shannon (Paperback)
A Novel of Ireland
Random House Trade Paperbacks, 9780812975963, 416pp.
Publication Date: February 23, 2010
Other Editions of This Title:
Digital Audiobook (2/9/2009)
* Individual store prices may vary.
Description
In the summer of 1922, Robert Shannon, a Marine chaplain and a young American hero of the Great War, lands in Ireland. He still suffers from shell shock, and his mentor hopes that a journey Robert had always wanted to make—to find his family roots along the banks of the River Shannon—will restore his equilibrium and his vocation. But there is more to the story: On his return from the war, Robert had witnessed startling corruption in the Archdiocese of Boston. He has been sent to Ireland to secure his silence—permanently. As Robert faces the dangers of a strife-torn Ireland roiling in civil war, the nation's myths and people, its beliefs and traditions, unfurl healingly before him. And the River Shannon gives comfort to the young man who is inspired by the words of his mentor: "Find your soul and you'll live."
About the Author
Frank Delaney is the author of the New York Times bestselling novel Ireland, as well as The Last Storyteller, The Matchmaker of Kenmare, Venetia Kelly's Traveling Show, Tipperary, Shannon, and Simple Courage: A True Story of Peril on the Sea. A former judge for the Man Booker Prize, Delaney enjoyed a prominent career in BBC broadcasting before becoming a full-time writer. Delaney died in 2017.
Praise For Shannon: A Novel of Ireland…
"A rousing tale of forbidden love, civil war, horrible death and other things Irish. …A fine adventure in storytelling…[and] a well-crafted, satisfying work of historical fiction, as are all of Delaney's novels; respectful of the facts while not cowed by them, and full of life." —Kirkus Reviews

"A tale of personal healing and spiritual redemption against the Irish Civil war…Delaney takes great pains to evoke not only the physical but spiritual beauty of the land and people along the River Shannon. He provides incredibly researched details about not only the geological nature of a river winding its way to the sea but the mystical effect this simple body of water has had on its residents for millennia [and] provides timely insights about the raw, damaged output of war and the far-reaching impact it can have…This book is almost impossible to put down and provides a very satisfying, and maybe even surprising, conclusion to all the different storylines."—Midwest Irish Focus

"Thoughtful, spiritual though not overbearing, and rounded out with a nice vein of intrigue." —Publishers Weekly

 
"Delaney makes his lovely, battered country a character of its own."—USA Today

"A gripping story . . . As with Charles Frazier's Cold Mountain and a couple of other recent works, [Shannon] is the story of an odyssey. . . . Delaney again shows himself to be a master user of the language, a master at historical fiction and a master storyteller in the Irish tradition."—Winston-Salem Journal

"An engaging read . . . filled with eccentric characters, treachery, and ultimately, redemption."—The Star-Ledger
 
"Delaney, a native of Ireland . . . knows the territory. Ireland is a living place and its people compelling."—Rocky Mountain News