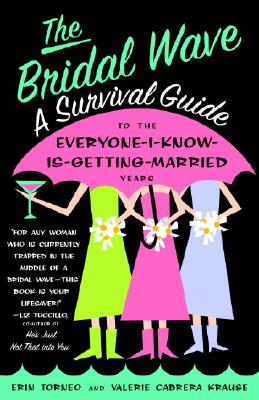 The Bridal Wave: A Survival Guide to the Everyone-I-Know-Is-Getting-Married Years (Paperback)
A Survival Guide to the Everyone-I-Know-Is-Getting-Married Years
Villard Books, 9780812976014, 256pp.
Publication Date: January 2, 2007
* Individual store prices may vary.
or
Not Currently Available for Direct Purchase
Description
It starts with the IGBN (I've Got Big News) phone calls and a mailbox full of Save the Dates. Next comes the meltdown: I always thought I'd be married by now. Why does she have a ring on her finger and I don't? Soon you're buying outrageously expensive china, dancing the electric slide with the groom's dull but available cousin, and envisioning a long and single life for you and a dozen or so cats. But fear not
Now Erin Torneo and Valerie Cabrera Krause show you how to surf The Bridal Wave on your own terms. This hilarious and practical guide to surviving the wedding blitz reveals the sanity-saving secrets to dealing with all manner of matri-mania, including how to
- manage finances during the costly wedding season
- turn brutal self-examination ("What's wrong with me?") into empowering self-reflection ("Nothing ")
- cope with envy and feelings of competition
- deal with lobridemized friends
- avoid settling for Mr. Wrong just to fit the timeline in your head
- actually enjoy being a bridesmaid, despite the dress
Like the best of friends, Erin and Valerie will help you separate fact from fairy tale-and stay sane, whether you're coupled-up, single and looking, or single and just fine, thank you very much
"For any woman who is currently trapped in the middle of a Bridal Wave-this book is your lifesaver "
-Liz Tuccillo, co-author of He's Just Not That Into You
"A funny and genuinely helpful book that should be on ever single woman's shelf."
-Karen McCullah Lutz, author of Legally Blonde
"Torneo and Krause's advice will be eagerly gobbled up by legions of women."
-Celeste Perron, author of Playing House

"Will ease your wedding panic with humor and intelligence."
-Andrea Lavinthal, co-author of The Hookup Handbook

About the Author
Erin Torneo is a former editor at Cosmopolitan. Her work has appeared in various magazines, including Lucky, Variety's V Life, The Independent, The Kyoto Journal, SEED, indieWIRE, and Mother Earth News. She is the coauthor of The Bridal Wave. Valerie Krause was an advertising executive in Los Angeles prior to taking the plunge into writing full time. She specializes in finding consumer insights and creating strategies to help companies connect with their customers in real ways. She is the coauthor of The Bridal Wave.
Advertisement