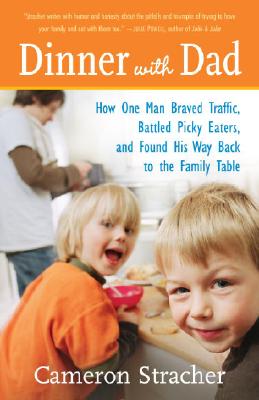 Dinner with Dad: How One Man Braved Traffic, Battled Picky Eaters, and Found His Way Back to the Family Table (Paperback)
How One Man Braved Traffic, Battled Picky Eaters, and Found His Way Back to the Family Table
Random House Trade, 9780812976229, 242pp.
Publication Date: August 19, 2008
* Individual store prices may vary.
or
Not Currently Available for Direct Purchase
Description
A devoted wife, two bright children, a gorgeous home in a nice Connecticut suburb, an ample income as a successful lawyer: By all accounts, Cameron Stracher is living the American dream. Problem is, thanks to a crazy work schedule, he's never home to enjoy it. So Cameron makes a bold decision: For the next year he'll be home by six o'clock at least five days a week to sit down to a real family dinner-and he'll even help cook that dinner himself. But as this daring adventure gets under way, it becomes clear that the road to culinary togetherness is no cakewalk. Only the author's faith in another American dream-family closeness at the dinner table-keeps him moving, as he shops, chops, and cooks his way to fulfillment.
Fired with love and humor, wit and heart, and peppered with engaging social and cultural history, Dinner with Dad is a four-star, five-course celebration of family life. Millions of overextended parents will relate to and relish Cameron's journey as he discovers what truly matters most.
Praise for Dinner with Dad
"Stracher writes with humor and honesty about the pitfalls and triumphs of trying to have your family and eat with them too."
-Julie Powell, author of Julie & Julia
"A delightful account of what happened when Cameron Stracher made it his goal to get home in time for dinner five times a week over the course of ten months . . . The payoff for Mr. Stracher is undeniable."
-The Wall Street Journal
"Busy fathers everywhere will immediately identify with this book, and hopefully will heed its message. Well done, Cameron-someone needed to write this book. Now dads everywhere need to read it."
-Mike Greenberg, author of Why My Wife Thinks I'm an Idiot
"An ultimately hopeful, joyful picture of what contemporary family life can be."
-Booklist
"Charming and insightful."
-The New York Times
About the Author
Cameron Stracher is the author of Double Billing: A Young Lawyer's Tale of Greed, Sex, Lies, and the Pursuit of a Swivel Chair and a novel, The Laws of Return. He is a graduate of Harvard Law School and the Iowa Writers' Workshop. His essays and articles on family life (and other topics) have appeared in The New York Times, The New York Times Magazine, The Wall Street Journal, Parents, The American Lawyer (where he is a contributing editor), and many other publications. During the day he teaches at New York Law School and practices media law, and at night he rushes home to his wife and two children in Westport, Connecticut. Visit his website at www.dinnerwithdad.com. From the Hardcover edition.
Advertisement