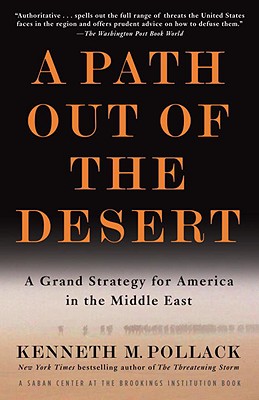 A Path Out of the Desert: A Grand Strategy for America in the Middle East (Paperback)
A Grand Strategy for America in the Middle East
Random House Trade, 9780812976427, 592pp.
Publication Date: August 25, 2009
* Individual store prices may vary.
or
Not Currently Available for Direct Purchase
Description
The greatest danger to America's peace and prosperity, notes leading Middle East policy analyst Kenneth M. Pollack, lies in the political repression, economic stagnation, and cultural conflict running rampant in Arab and Muslim nations. Pollack asserts that we must continue to make the Middle East a priority in our policy, but in a humbler, more realistic, and more cohesive way. In his long-term strategy, Pollack suggests that America engage directly with the governments of the Middle East and indirectly with its people by means of cultural exchange, commerce, and other "soft" approaches. He carefully examines each of the region's most contested areas, as well as the Israeli-Palestinian peace process, and explains how the United States can address each through mutually reinforcing policies. At a time when the nation is facing critical decisions about our continued presence in Iraq and Afghanistan, A Path Out of the Desert is guaranteed to stimulate debate about America's humanitarian, diplomatic, and military involvement in the Middle East.
About the Author
Kenneth M. Pollack is the director of research at the Saban Center for Middle East Policy at the Brookings Institution. From 1995 to 1996 and from 1999 to 2001, he served as director for Persian Gulf affairs at the National Security Council, where he was the principal working-level official responsible for implementation of U.S. policy toward Iraq, Iran, and the states of the Arabian Peninsula. Prior to his time in the Clinton administration, he spent seven years in the CIA as a Persian Gulf military analyst. He is the author of The Threatening Storm, The Persian Puzzle, Arabs at War, and Things Fall Apart. He lives in Washington, D.C.
Praise For A Path Out of the Desert: A Grand Strategy for America in the Middle East…
"Once again, Ken Pollack has plunged into the most complex and controversial issues of our time, offering cogent analysis, clear thinking, and very constructive proposals."—Richard C. Holbrooke, special envoy to Pakistan and Afghanistan

"Thoughtful and informative . . . a powerful argument for continued, and perhaps even greater, American involvement in the Middle East."—The Economist

"One of the most lively and accessible accounts of the modern Middle East and the policies that are needed to turn the region around."—Peter Bergen, author of Holy War, Inc.

"Authoritative . . . spells out the full range of threats the United States faces in the region and offers prudent advice on how to defuse them." —Washington Post Book World

Advertisement