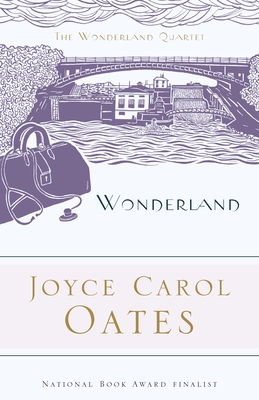 Wonderland (The Wonderland Quartet #4) (Paperback)
Modern Library, 9780812976557, 528pp.
Publication Date: September 12, 2006
Other Editions of This Title:
Paperback (5/1/1992)
* Individual store prices may vary.
Description
Joyce Carol Oates's Wonderland Quartet comprises four remarkable novels that explore social class in America and the inner lives of young Americans. Spanning from the Great Depression to the turbulent Vietnam War era, Wonderland is the epic account of Jesse Vogel, a boy who emerged from a family tragedy with his life spared but his world torn apart. Orphaned after watching his father murder his entire family, Jesse embarks on a personal odyssey that takes him from a Dickensian foster home to college and graduate school to the pinnacle of the medical profession. As an adult, Jesse must summon the strength to reach across the "generation gap" and rescue his endangered teenaged daughter, who has fallen into the drug-infused 1960s counterculture.

Hailed by Library Journal as "the greatest of Oates's novels," Wonderland is the capstone of a magnificent literary excursion that plunges beneath the glossy surface of American life.

Wonderland is the final novel in Joyce Carol Oates's Wonderland Quartet. The books that complete this acclaimed series, A Garden of Earthly Delights, Expensive People, and them, are also available from the Modern Library.

J
About the Author
Joyce Carol Oates is the Roger S. Berlind Professor in the Humanities at Princeton University. The bestselling author of the novels We Were the Mulvaneys and Blonde, she has written numerous works of fiction, poetry, essays, criticism, and plays.
Praise For Wonderland (The Wonderland Quartet #4)…
Praise for The Wonderland Quartet, four early novels by Joyce Carol Oates
Modern Library trade paperbacks, on sale September 12, 2006

A Garden of Earthly Delights
Expensive People
them
Wonderland


"Protean and prodigious are surely the words that describe Ms. Oates. From the very beginning, as these impressive and diverse novels make clear, her talents and interests and strengths have never found comfort in fashionable restraint. She's sought, instead, to do it all -- to face and brilliantly, inventively transact and give shape to as much of experience as possible, as if by no other means is a useful and persuasive gesture of moral imagination even conceivable. For us readers these are valuable books." -- Richard Ford
"These four novels reveal Oates' powers of observation and invention, her meticulous social documentation joined to her genius for forging unforgettable myths. She is one of the handful of great American novelists of the last hundred years. " -- Edmund White
"This rich, kaleidoscopic suite of novels displays the young Joyce Carol Oates exercising her formidable artistic powers to portray a turbulent twentieth-century America. They offer the reader a singular opportunity to experience some of Oates's best writing and to witness her development, novel by novel, into one of our finest contemporary writers." --Greg Johnson, author of Invisible Writer: A Biography of Joyce Carol Oates
"As a young writer, Joyce Carol Oates published four remarkable novels, A Garden of Earthly Delights (1967), Expensive People (1968), them (1969), and Wonderland (1971). They were all nominated for the National Book Award, and Oates won the award for them in 1970....Reprinting the series in modern paperback editions nearly forty years after their composition allows us a new perspective on their collective meaning and illuminates their place in Oates's overall career...The Wonderland Quartet, written in the "white heat" of youthful imagination and fervor, remains not only relevant but prophetic about the widening social and economic gulf in American society, the self-destructive violence of political extremism, and the terrifying hubris of science and technology. Bringing to life an unforgettable range of men and women, the Wonderland Quartet offers a compelling introduction to a protean and prodigious contemporary artist." -- Elaine Showalter, from her introduction, which appears in all four of these new Modern Library editions
or
Not Currently Available for Direct Purchase