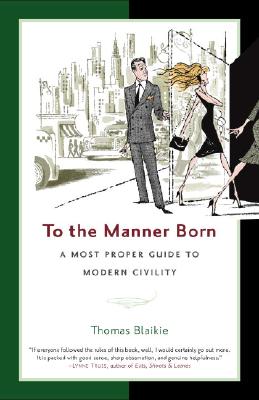 To the Manner Born
A Most Proper Guide to Modern Civility
Hardcover

* Individual store prices may vary.
Description
Your friends neglect to RSVP to your party invitation . . . co-workers munch their pungent meals near your office . . . pedestrians shout into their cell phones and practically knock you to the pavement.

Wishing that friends, family, colleagues, and oblivious strangers would mind their manners is lovely, but what about your own? You don't mean to be rude, but in today's carefree, high-tech, fast-paced world, how are you supposed to know what to do?

Thankfully, Englishman Thomas Blaikie's witty and insightful guide will help you steer through this minefield of uncertainty and back onto the path toward civility–without a lot of fuss and bother. No need to worry about the proper way to eat soup or which is the salad fork. What Blaikie teaches you is more important: how and when to drop in on a friend, how to turn down suitors graciously, how to "move on" at a party, how to end a text-message conversation that's gone on just a bit too long, and how to cope with myriad other twenty-first-century social traumas.
Always positive and cheerful, To the Manner Born offers commonsense, practical solutions. And if you don't like someone else's manners, yes, you really should try to do something about it–in the nicest way possible, of course.

"Thomas Blaikie is the perfect guide through the treacherous minefield of contemporary social mores: witty, amusingly abstruse, stylish and most importantly knowledgeable."
–Will Self, author of Cock and Bull

"If everyone followed the rules of this book, well, I would certainly go out more. It is packed with good sense, sharp observation, and genuine helpfulness."
–Lynne Truss, author of Eats, Shoots & Leaves
Villard, 9780812976595, 224pp.
Publication Date: October 10, 2006
or
Not Currently Available for Direct Purchase