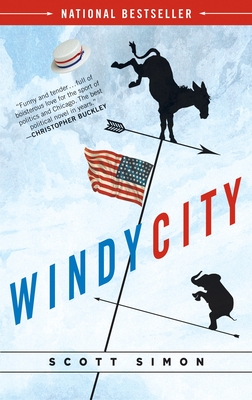 Windy City (Paperback)
Random House Trade Paperbacks, 9780812976694, 432pp.
Publication Date: April 14, 2009
Other Editions of This Title:
Hardcover (3/11/2008)
* Individual store prices may vary.
Description
In a novel as brawling and boisterous as Chicago itself, Scott Simon delivers a tale both laugh-out-loud funny and deeply moving, capturing the multiethnic tumult of big city politics.

The mayor of Chicago is found in his office late at night, murdered, facedown in a pizza. As police race to find the killer, the interim mayor, Sundaran "Sunny" Roopini, tries to juggle his responsibilities as a recently widowed father of two teenage daughters while herding his forty-nine fellow city aldermen toward choosing a new mayor. Over the course of four days, this raft of colorful characters–heroes, rascals, and pinky-ringed pols of all creeds, colors, and proclivities–will clash, as Sunny, a flawed but decent man, tries to hold together his family and his city.
About the Author
Scott Simon is the host of NPR's Weekend Edition with Scott Simon. He has reported stories from all fifty states and every continent, and has won every major award in broadcasting. He is the author of the memoir Home and Away, Jackie Robinson and the Integration of Baseball, and the novels Windy City and Pretty Birds. He lives with his wife, Caroline, and their daughters, Elise and Lina.
Praise For Windy City…
"Delectable… Offers an insider's view of the kind of urban political fray–albeit fictional–that Barack Obama emerged from as an Illinois state legislator representing Chicago's South Side…. Windy City's articulate and witty protagonist … must juggle dirty secrets and deal making…"—USA Today

"Comic but sneakily affecting… The rich multiculturalism of the American city is not a new phenomenon… rarely, however, has it been depicted with such unabashed affection... The zeal with which he celebrates the city, warts and all, is hard to resist.. Simon's choice of hero…is an immensely appealing figure."—Washington Post Book World

"Pitch-perfect… Scott Simon, NPR host, knows his way around politics… His dialogue throws off sparks and shrieks like a Chicago El-car…Recommended to all political junkies."—Roanoke Times, Virginia

"Entertaining and well-observed… renders the inner workings of City Hall with wit and aplomb….Some of Simon's Chicagoans may be con artists, crooks, amoral opportunists or blowhards, sometimes all of the above, but the author still treats them with great affection and respect, creating an impressively large and diverse cast of characters"—Chicago Tribune

"[A] great novel… filled with emotional turmoil, gritty political decisions, murders, homicide attempts, a suicide and even a touch of romance…[a] human and fully realized portrait of the people caught up in contemporary public life."
–Time Out Chicago

"[A] big-hearted bear-hug of a novel… embracing roots and family, eccentricities and failings, and dappled with the sights, sounds and grit of the Windy City–makes this an energizing and loving contemporary urban fable."—GO Magazine, AirTran Airways

"A rather sentimental, positive picture of the democratic process." —Pittsburgh Post-Gazette

"Windy City is funny and tender… full of boisterous love for the sport of politics and Chicago.  The best political novel in years."—Christopher Buckley, author of Boomsday and Thank You for Smoking