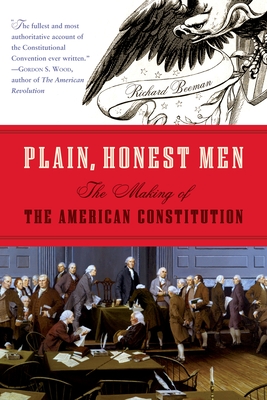 Plain, Honest Men: The Making of the American Constitution (Paperback)
The Making of the American Constitution
Random House Trade, 9780812976847, 514pp.
Publication Date: February 9, 2010
Description
In May 1787, in an atmosphere of crisis, delegates met in Philadelphia to design a radically new form of government. Distinguished historian Richard Beeman captures as never before the dynamic of the debate and the characters of the men who labored that historic summer. Virtually all of the issues in dispute--the extent of presidential power, the nature of federalism, and, most explosive of all, the role of slavery--have continued to provoke conflict throughout our nation's history. This unprecedented book takes readers behind the scenes to show how the world's most enduring constitution was forged through conflict, compromise, and fragile consensus. As Gouverneur Morris, delegate of Pennsylvania, noted: "While some have boasted it as a work from Heaven, others have given it a less righteous origin. I have many reasons to believe that it is the work of plain, honest men."

About the Author
Richard Beeman is a professor of history at the University of Pennsylvania and the author of five previous books on the history of revolutionary America; his biography of Patrick Henry was a finalist for the National Book Award. He has received awards from, among others, the Rockefeller Foundation and the National Endowment for the Humanities, and he has served as Harmsworth Professor of American History at Oxford University. He also serves as a trustee and vice-chair of the Distinguished Scholars Panel of the National Constitution Center. Richard Beeman lives in Philadelphia.
Praise For Plain, Honest Men: The Making of the American Constitution…
"In sprightly, engaging prose and with a sure, steady scholarly hand, Rick Beeman has given us a vivid account of the most vital chapter of our early history: the making of the Constitution. This is a terrific book."—Jon Meacham, author of American Lion

"Beeman eschews the heroic version of the story in favor of a hard-eyed narrative that in no way diminishes the Framers' achievement. . . . In a motion-by-motion, day-by-day, debate-by-debate fashion, he re-creates the [delegates'] hard bargaining. . . . Masterfully told American history for the scholar and general reader alike."—Kirkus Reviews, starred review

"While some have boasted it as a work from Heaven, others have given it a less righteous origin. I have many reasons to believe that it is the work of plain, honest men."—Gouverneur Morris

"Authoritative and readable . . . Beeman's work is distiguished by a gently judicious tone that allows us to appreciate, and draw some lessons from, the delicate balances that emerged out of that passion-filled Philadelphia crucible." —Walter Isaacson, The New York Times Book Review

"The fullest and most authoritative account of the Constitutional Convention ever written." – Gordon S. Wood, author of The Radicalism of the American Revolution

"Engrossing . . . This minute-by-minute account introduces us to a world, and time, where everything was at stake."—Chicago Tribune, editor's choice


"A stunning achievement . . . easily the best and most comprehensive treatment of its subject ever written."—Weekly Standard
Advertisement