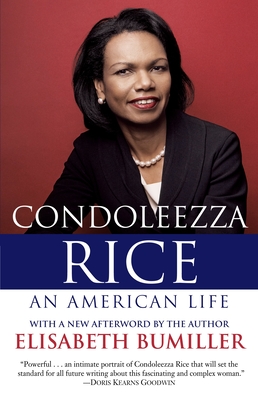 Condoleezza Rice: An American Life: A Biography (Paperback)
An American Life: A Biography
Random House Trade, 9780812977134, 408pp.
Publication Date: February 1, 2009
Description
Condoleezza Rice, one of the most powerful and controversial women in the world, has until now remained a mystery behind an elegant, cool veneer. New York Times reporter Elisabeth Bumiller peels back the layers and presents a revelatory portrait of the first black female secretary of state and President George W. Bush's national security adviser on September 11, 2001. Drawing on extensive interviews with Rice and more than 150 others, including colleagues, family members, government officials, and critics, the book relates in more intimate detail than ever before the personal voyage of a young black woman out of the segregated American South, and offers dramatic new information about the events and personalities of the Bush administration. In the process, with great insight, Bumiller tells the sweeping story of a tumultuous half-century in the nation's history.
About the Author
Elisabeth Bumiller, a Washington reporter for The New York Times, was a Times White House correspondent from September 10, 2001, to 2006. She is the author of May You Be the Mother of a Hundred Sons: A Journey Among the Women of India and The Secrets of Mariko: A Year in the Life of a Japanese Woman and Her Family. She wrote much of this book as a public policy scholar at the Woodrow Wilson International Center and as a transatlantic fellow at the German Marshall Fund of the United States. She lives in the Washington, D.C., area with her husband, Steven R. Weisman, and two children. From the Hardcover edition.
Praise For Condoleezza Rice: An American Life: A Biography…
"Powerful . . . an intimate portrait of Condoleezza Rice that will set the standard for all future writing about this fascinating and complex woman."
–Doris Kearns Goodwin

"A compelling portrait of the country's first black female secretary of state . . . a cautionary tale about the gap between ambitious presidential appointees and their unwillingness to speak truth to power."
–The New York Times

"In this singular, fascinating, well-reported, and well-written book, one of our finest journalists shows us heretofore unseen facets of the Condoleezza Rice story."
–Michael Beschloss, author of Presidential Courage

"Measured, insightful and comprehensive . . . [Elisabeth Bumiller] brings a keen eye to Rice."
–The New York Times Book Review

"A careful, well-documented new."
–Los Angeles Times
Advertisement