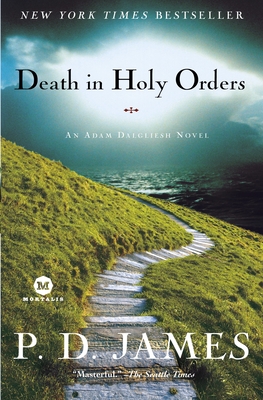 Death in Holy Orders
An Adam Dalgliesh Novel
Paperback

* Individual store prices may vary.
Other Editions of This Title:
Digital Audiobook (4/9/2001)
Digital Audiobook (11/19/2014)
Description
From the award-winning master of literary crime fiction, a classic work rich in tense drama and psychological insight.

On the East Anglian seacoast, a small theological college hangs precariously on an eroding shoreline and an equally precarious future. When the body of a student is found buried in the sand, the boy's influential father demands that Scotland Yard investigate. Enter Adam Dalgliesh, a detective who loves poetry, a man who has known loss and discovery. The son of a parson, and having spent many happy boyhood summers at the school, Dalgliesh is the perfect candidate to look for the truth in this remote, rarified community of the faithful–and the frightened. And when one death leads to another, Dalgliesh finds himself steeped in a world of good and evil, of stifled passions and hidden pasts, where someone has cause not just to commit one crime but to begin an unholy order of murder. . . .

Praise for Death in Holy Orders

"Gracefully sculpted prose and [a] superbly executed mystery . . . Death in Holy Orders is among [James's] most remarkable and accomplished Dalgliesh novels."—The Philadelphia Inquirer

"An elegant work about hope, death, and the alternately redemptive and destructive nature of love."—The Miami Herald 

"Absorbing . . . [James's] plotting and characterization [are] impeccable."—Orlando Sentinel

"P. D. James is in top form."—The Boston Globe

Open the exclusive dossier at the back of this book, featuring P. D. James' essay on penning the perfect detective novel.
Praise For Death in Holy Orders: An Adam Dalgliesh Novel…
"There are very few thriller writers who can compete with P. D. James at her best ... One of the things that sets P. D. James apart from other writers in this genre is the intellectual assurance of her work. This is manifest in her use of language - she writes beautifully - but also in the light touch with which she displays her learning ... DEATH IN HOLY ORDERS is pure pleasure." --Charlotte Joll, The Spectator


"DEATH IN HOLY ORDERS is a page-turner ... but it is also so well-written that you linger over James's beautifully-observed descriptions of characters or scenes ... More, please, P. D. James." --Rosita Boland, The Irish Times


"James transcends the crime genre, in that hers are fully evolved novels and not just murder mysteries. They are packed with argument and insight and detail." --Victoria Glendinning, The Daily Telegraph


"This is a thoroughly satisfactory, gripping and exceptionally well-written novel." --Anne Chisholm, The Sunday Telegraph


"James is a natural storyteller when it comes to pace and atmosphere." --Sarah Dunant, The Times


"Adam Dalgliesh's latest outing possesses the confident interplay of classical discipline, contemporary morality and strong evocation of place that had hitherto distinguished James's novels. Writing for the most part within the conventions of the detective story, she has again proved its constraints to be a liberating force for the creative imagination, drawing on accepted generic elements to produce a thoughtful, beautifully-written book which is far more complex than the sum of its parts." --Nicola Upson, The Observer


"This is a grand, gothic novel of gut-wrenching suspense, satisfying at all levels. (...) Here is a novel which goes beyond mere enjoyment." --Frances Fyfield, The Sunday Express
Ballantine Books, 9780812977233, 448pp.
Publication Date: January 9, 2007
About the Author
P.D. James is the author of sixteen previous books, most of which have been filmed for television. Before her retirement in 1979, she served in the forensics and criminal justice departments of Great Britain's Home Office, and she has been a magistrate and a governor of the BBC. The recipient of many prizes and honours, she was created Baroness James of Holland Park in 1991. In 2000 she celebrated her eightieth birthday and published her autobiography, Time to Be in Earnest.