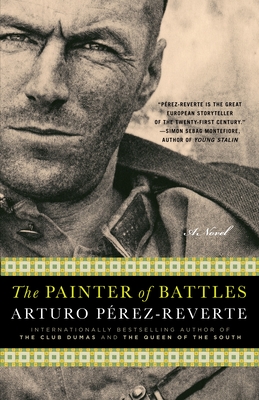 The Painter of Battles (Paperback)
Random House Trade, 9780812977301, 211pp.
Publication Date: March 10, 2009
Description
Andres Faulques, a world-renowned war photographer, has retreated to a tower overlooking the Spanish coast, where he paints a vast mural incorporating the indelible images of conflict he's witnessed in his lifetime.
One night, an unexpected visitor interrupts his solitude. As Faulques struggles to recall the face, the man explains that he was the subject of an iconic photo taken by Faulques in a war zone years ago-a photo that destroyed his life. "And why have you come looking for me?" asks Faulques. The stranger answers, "Because I'm going to kill you."
So begins a life-or-death exchange in which Faulques is forced to recall a time when he loved a beautiful woman and risked his life daily for art and testimony. Yet as the tense dialogue between Faulques and his would-be killer continues, the stakes grow even higher. What they are grappling with becomes not just Faulques' fate, but the very nature of love and cruelty itself.
About the Author
Arturo Perez-Reverte's bestselling books, including The Club Dumas, The Flanders Panel, The Fencing Master, and the Captain Alatriste series, have been translated into thirty-four languages in fifty countries and have sold millions of copies. Born in Cartagena, Spain, Perez-Reverte now lives in Madrid, where he was recently elected to the Spanish Royal Academy. A former war journalist, he covered conflicts in Angola, Bosnia, Croatia, El Salvador, Lebanon, Nicaragua, the Persian Gulf, and Sudan, among others. He now writes fiction full time.
Praise For The Painter of Battles…
"[Pérez-Reverte's] best book yet . . . a game of mental chess, an excursion into art, history and imagination."
–The Times (London)

"A remarkable achievement. Not only does the clash of ideas and emotions echo after you have turned the last page–this novel will change what you see in images from datelines around the world."
–Scott Simon, author of Pretty Birds

"Arturo Pérez-Reverte has established himself as the master of the intellectual thriller."
–Chicago Tribune

"[A] taut literary thriller [with] meticulous detail and dark, brooding tone."
–Publishers Weekly

"A gripping story of war, cruelty, testimony, and the past . . . Arturo Pérez-Reverte is the great European storyteller of the 21st century."
–Simon Sebag Montefiore, author of Young Stalin

"Reminds American readers of the sublime rhetoric of Faulkner and how such passages in the hands of a master can add to the momentum of the story."
–San Francisco Chronicle

"A tour de force [that] explores the great themes of human existence."
–The Australian
Advertisement