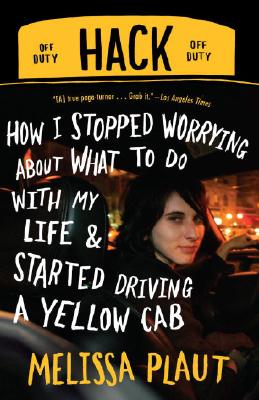 Hack (Paperback)
How I Stopped Worrying About What to Do with My Life and Started Driving a Yellow Cab
Villard, 9780812977394, 256pp.
Publication Date: June 24, 2008
Other Editions of This Title:
Hardcover (8/28/2007)
* Individual store prices may vary.
Description
"I had always thought about driving a cab, just thought it'd be interesting and different, a good way to make money. But it always seemed like a fleeting whim, a funny idea, something I would never actually do."

In her late twenties and after a series of unsatisfying office jobs, Melissa Plaut decided she was going to stop worrying about what to do with the rest of her life and focus on what she was going to do next. Her first adventure: becoming a taxi driver. Undeterred by the fact that 99 percent of cabbies in the city were men, she went to taxi school, got her hack license, and hit the streets of Manhattan and the outlying boroughs.

Hack traces Plaut's first two years behind the wheel of a yellow cab traveling the 6,400 miles of New York City streets. She shares the highs, the lows, the shortcuts, and professional trade secrets. Between figuring out where and when to take a bathroom break and trying to avoid run-ins with the NYPD, Plaut became an honorary member of a diverse brotherhood that included Harvey, the cross-dressing cabbie; the dispatcher affectionately called "Paul the crazy Romanian"; and Lenny, the garage owner rumored to be the real-life prototype for TV's Louie De Palma of Taxi.

With wicked wit and arresting insight, Melissa Plaut reveals the crazy parade of humanity that passed through her cab–including struggling actors, federal judges, bartenders, strippers, and drug dealers–while showing how this grueling work provided her with empowerment and a greater sense of self. Hack introduces an irresistible new voice that is much like New York itself–vivid, profane, lyrical, and ineffably hip
About the Author
Melissa Plaut was born in 1975 and grew up in the suburbs of New York City. After college, she held a series of office jobs until, at the age of twenty-nine, she began driving a yellow cab. A year later she started writing "New York Hack" (newyorkhack.blogspot.com), a blog about her experiences behind the wheel. Within a few months, the blog was receiving several thousand hits a day. Melissa Plaut lives in Brooklyn.
Praise For Hack: How I Stopped Worrying About What to Do with My Life and Started Driving a Yellow Cab…
Advance praise for Hack

"This fast, funny behind-the-scenes tour of taxi driving in New York takes fascinating detours through issues of sex, class, and finding your life's purpose. Melissa Plaut is the Anthony Bourdain of cabbies."
–Janice Erlbaum, author of Girlbomb

"When was the last time you shook your head in wonder? If it's been too long, read Melissa Plaut's brave, lurid, and completely improbable tale of life behind the wheel. You'll look at cabbies differently. You'll look at the world differently. Hack rekindles a sense of adventure we seem to have lost along the way."
–David Goodwillie, author of Seemed Like a Good Idea at the Time

"Forget the Peace Corps–Melissa Plaut will tell you that cab driving truly is the hardest job you'll ever love. Hack is an honest and intrepid account of life in the front seat. Use a ten-dollar bill to bookmark your copy. When you're done reading, you'll use it to tip your next cab driver. Oh yes, you will."
–Wendy McClure, author of I'm Not the New Me

"Hack is an intimate portrait of New York City from within one of her most popular landmarks: the taxicab. Step inside; each page will ferry you through a hundred human stories about the stress of living in-between. From this carousel of urban life, Melissa Plaut opens the door to a new perspective on a misunderstood profession, and tells a redeeming story about the spirit of adventure that can be kindled within each of us–-whoever we are, and wherever we are going."
–Travis Hugh Culley, author of The Immortal Class: Bike Messengers and the Cult of Human Power

"Hack is the beat of the asphalt moving fast under our feet as we speed with Plaut through the city labyrinth on an always strange and new adventure."
–Doug Aitken, artist
or
Not Currently Available for Direct Purchase