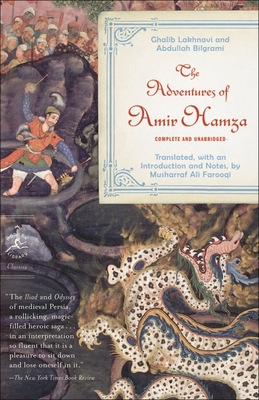 The Adventures of Amir Hamza (Modern Library Classics) (Paperback)
Modern Library, 9780812977431, 992pp.
Publication Date: October 14, 2008
* Individual store prices may vary.
Description
Here is the first unabridged English translation of a major Indo-Persian epic: a panoramic tale of magic and passion, a classic hero's odyssey that has captivated much of the world. It is the spellbinding story of Amir Hamza, the adventurer who in the service of the Persian emperor defeats many enemies, loves many women, and converts hundreds of infidels to the True Faith before finding his way back to his first love. In Musharraf Ali Farooqi's faithful rendition, this masterwork is captured with all its colorful action and fantastic elements intact. Appreciated as the seminal Islamic epic or enjoyed as a sweeping tale as rich and inventive as Homer's epic sagas, The Adventures of Amir Hamza is a true literary treasure.

Praise for The Adventures of Amir Hamza:

"The Iliad and Odyssey of medieval Persia, a rollicking, magic-filled heroic saga... in an interpretation so fluent that it is a pleasure to sit down and lose oneself in it."
–The New York Times Book Review

"A marvelous dovetailing of fantasy, history and religion . . . This sensitive new translation by Musharraf Ali Farooqi is filled with lyrical resonance. . . . [Readers] will love losing themselves in this complex yet ancient world of the imagination."
–The Washington Post Book World

"It's hard to think of an epic more dazzlingly splendid . . . Farooqi has given world literature a gift."
–Time

"With prose as embroidered as the tales themselves, the book should be savored under the covers like a secret lover."
–The Austin Chronicle

"[A] revelatory translation of a masterpiece of world literature . . . unequivocally an amazing piece of publishing history."
–The Buffalo News
About the Author
Ghalib Lakhnavi was a writer and poet who worked in India in the nineteenth century. His only known work is the one-volume Dastan-e Amir Hamza (1855).

Abdullah Bilgrami taught Arabic in Kanpur, India. His only known work is his enlargement of Ghalib Lakhnavi's Dastan-e Amir Hamza (1871).

Musharraf Ali Farooqi is an author and translator. He has translated works by the contemporary Urdu poet Afzal Ahmed Syed and is currently working on the Urdu Project (www.urduproject.com), an online resource for the study of Urdu language and literature.

Hamid Dabashi is the Hagop Kevorkian Professor of Iranian Studies and Comparative Literature at Columbia University and a prolific author and editor.
Praise For The Adventures of Amir Hamza (Modern Library Classics)…
Praise for The Adventures of Amir Hamza:
"The Adventures of Amir Hamza is a wonder and a revelation — a classic of epic literature in an interpretation so fluent that it is a pleasure to sit down and lose oneself in it. The story line itself is endlessly diverting and inventive, and the prose of the translation is beautifully rendered....For the modern American reader, The Adventures of Amir Hamza....with its mixed Hindu and Muslim idiom, its tales of love and seduction, its anti-clericalism….its stories of powerful and resourceful women, and its mocking of male misogyny, is a reminder of an Islamic world the West seems to have forgotten: one that is imaginative and heterodox."
—The New York Times Book Review and the International Herald Tribune, William Dalrymple

"This sensitive new translation by Musharraf Ali Farooqi is filled with lyrical resonance....a marvelous dovetailing of fantasy, history and religion.… Lovers of The Book of the Thousand Nights and One Night will immediately notice many stylistic similarities....There's a familiar cast of supernatural characters, including angels, jinns, giants and dragons…..And there's a capacious quality, a generosity of imagination that seems to invoke the layers and centuries of storytelling….Readers who prefer their heroes to be unequivocally heroic and who are ready to enjoy special effects on the page will love losing themselves in this complex yet ancient world of the imagination."
— The Washington Post, Diana Abu-Jaber

"I was also bowled over by a remarkable new translation of The Adventures of Amir Hamza (Random House Modern Library), the Iliad and Odyssey of the medieval Persian world: a rollicking, magic-filled heroic saga, full of myth and imagination. It is the first time it has been translated into English and it is as close as is now possible to the world of the Mughal campfire - those night gatherings of soldiers, Sufis, musicians and camp followers one sees in Mughal miniatures - a storyteller beginning his tale in the clearing of a forest as the embers of the blaze glow red and eager, firelit faces crowd around."
— New Statesman, a BOOKS OF THE YEAR 2007 selection

"It's hard to think of an epic more dazzlingly splendid….Farooqi has given world literature a gift….Non-Urdu-speaking readers can at last appreciate an epic 'on par with anything in the Western canon.' And, with luck, the classical pantheon populated by indomitable Achilles, cunning Odysseus and righteous King Arthur will now be joined by a new beloved hero: mercurial, mighty Amir Hamza, astride his winged demon steed, soaring to the heavens."
—Time International

"Students of world literature and Eastern languages will absolutely swoon if they are fortunate enough to receive this new translation of The Adventures of Amir Hamza…. With prose as embroidered as the tales themselves, the book should be savored under the covers like a secret lover before some filmmaker steals it away and dilutes it for mass consumption."
—Austin Chronicle

"The Indo-Islamic Dastan-e Amir Hamza is a rip-roaring, bawdy, magical journey into the fantastic life and exploits of Amir Hamza, the paternal uncle of the prophet Muhammad....the story is reminiscent of the tales of Homer and King Arthur and The Arabian Nights. Farooqi's unexpurgated and unabridged English translation from the Urdu is masterful….Destined to become a classic."
—Library Journal

"Possibly one of the most important fantasy events of the year….The Adventures of Amir Hamza turns out to be a terrific series of adventures that sometimes recall Don Quixote, sometimes The Arabian Nights, sometimes the great medieval romances….Farooqi's energetic and stylish translation…captures brilliantly the insouciant delights of the story teller's voice, and gives us a highly readable version of a major work of world literature that few of us even knew about. The Modern Library has done us a big favor.
—LOCUS Magazine

"What a find it is! For classic refernece points, imagine a more exotic, populous, Eastern variant on Le Morte d'Arthur or Orlando Furioso….one is continually seduced by Hamza's story. Farooqi's translation is both elegant and earthy….One is tempted to think that only a malevolent enchantess of great power could have kept The Adventures of Amir Hamza from a mainstream American audience for so long. But now, thanks to the powerful enchantments of Musharraf Ali Farooqi (and the support of Random House, publishers of the Modern Library), we can all sit, transfixed, as this most enthralling and ancient tale unfolds."
—Magazine of Fantasy and Science Fiction

"A spectacular and literally marvelous Islamic epic that ought to be almost as often spoken of as the "Tales of the 1,001 Nights."…By the time you're well into this world of battles, mythical creatures, beautiful royal daughters, tricksters, demons, deities, erotic encounters, slaughters and poems, you are aware, again, of the seemingly endless miracle of narrative in the world….unequivocally an amazing piece of publishing history."
—The Buffalo News

"Having had the pleasure recently of hosting Musharraf Farooqi at a campus lecture, I can testify to both his skills as a storyteller and his love of language. This love comes across in his compelling translation of The Adventures of Amir Hamza. Its rhythmic cadences make his sentences cry out to be read aloud. Like The Arabian Nights: Tales From a Thousand and One Nights, The Adventures of Amir Hamza traverses the territories of the Islamic world; but–again like The Arabian Nights–these tales fascinate for the way they incorporate aspects of neighboring cultures and religions. The hundreds of endnotes, on topics ranging from damascened swords and cosmic mountains to the fate of fallen angels and the greetings used by outlaw Sufis, provide glimpses of the rich imaginative universe of Moghul India."
—David J. Pinault, Religious Studies Department, Santa Clara University


or
Not Currently Available for Direct Purchase