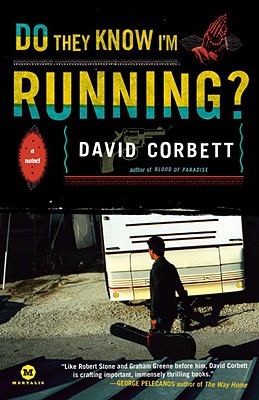 Do They Know I'm Running?
Paperback

* Individual store prices may vary.
Description
From acclaimed author David Corbett, a stunning and suspenseful novel of a life without loyalties and the borders inside ourselves.

Roque Montalvo is wise beyond his eighteen years. Orphaned at birth, a gifted musician, he's stuck in a California backwater, helping his Salvadoran aunt care for his damaged brother, an ex-marine badly wounded in Iraq. When immigration agents arrest his uncle, the family has nowhere else to turn. Roque, badgered by his street-hardened cousin, agrees to bring the old man back, relying on the criminal gangs that control the dangerous smuggling routes from El Salvador, through Guatemala and Mexico, to the U.S. border.
 
But his cousin has told Roque only so much. In reality, he will have to transport not just his uncle but two others: an Arab whose intentions are disturbingly vague and a young beauty promised to a Mexican crime lord. Roque discovers that his journey involves crossing more than one kind of border, and he will be asked time and again to choose between survival and betrayal—of his country, his family, his heart.
Praise For Do They Know I'm Running?…
"Eighteen-year-old Roque Montalvo must travel from California's East Bay to El Salvador to help Tio Faustino illegally reenter the U.S. Faustino has been arrested in an illegal-immigration sweep in Oakland and immediately deported. Faustino's son has made the arrangements for passage with MS-13, the Salvadoran multinational gang. But Roque soon learns that he must also shepherd a mysterious Arab as well as rescue Lupe, a beautiful, terrified, embittered, young Salvadoran woman, who is to be given to a psychotic MS-13 lieutenant en route. The journey is perilous, but so, author Corbett makes clear, is life for illegal aliens in California. Corbett is covering familiar ground (Blood of Paradise, 2007) but in this powerful, evocative, character-driven novel, he has written what should be a breakout success. What drives Corbett's characters to risk death, violent gangs, ICE, armed "Minutemen," deportation, and life as a fugitive in the U.S? As the Arab says to Lupe: "Yes, there is little hope in the world. But without America, there is none. Despite everything, you will have a chance." Readers who devour and then forget formulaic crime novels won't soon forget this one."--Booklist, starred review

"With lyrical yet muscular prose, an ahead-of-the-headlines plot, and utterly believable characters, David Corbett's Do They Know I'm Running? is nothing short of superb. This is not just a thriller, but an elegant novel, full of heart, soul, music, food, cruelty, betrayal, poverty and love. The line runs through Ernest Hemingway and Graham Greene, straight on to David Corbett. I'm not kidding. He's that good."—John Lescroart, author of A Plague of Secrets

"A scintillating, politically fuelled mystery that grabs you by the heart and never, never lets up. Think Graham Greene writing today with the narrative drive of Michael Connelly. Borders–in every sense of the word–are transformed and manipulated by writing that seems as effortless as it is compelling. Rarely does a novel knock you totally out of the park; this one does."—Ken Bruen, author of The Guard

"David Corbett's new novel is a bold look into the darkness that is human-trafficking, a sharp revelation of the intended and unintended consequences of such evil. With powerful and observant prose he takes us on the smuggling routes, into the lives of those involved, the moments of terror and of hope. After reading Do They Know I'm Running? you can't plead ignorance anymore."—Daniel Woodrell, author of Winter's Bone
Ballantine Books, 9780812977554, 480pp.
Publication Date: March 2, 2010
About the Author
David Corbett is the author of three critically acclaimed novels: The Devil's Redhead, Done for a Dime""(a "New York Times" Notable Book), and Blood of Paradise--nominated for numerous awards, including the Edgar, and named one of the Top Ten Mysteries and Thrillers of 2007 by the "Washington Post" and a "San Francisco Chronicle" Notable Book. His short fiction and essays have appeared in numerous periodicals and anthologies, and his story ""Pretty Little Parasite,"" from "Las Vegas Noir," was selected for inclusion in Best American Mystery Stories 2009.
or
Not Currently Available for Direct Purchase