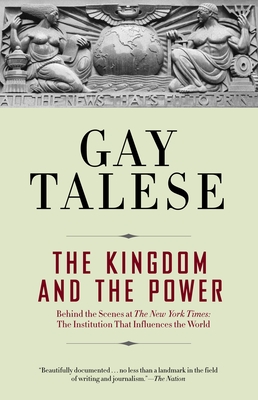 The Kingdom and the Power (Paperback)
Behind the Scenes at The New York Times: The Institution That Influences the World
Random House Trade Paperbacks, 9780812977684, 576pp.
Publication Date: January 9, 2007
Other Editions of This Title:
Mass Market Paperback (6/1/1992)
* Individual store prices may vary.
Description
"Beautifully documented . . . no less than a landmark in the field of writing and journalism."—The Nation

"Fascinating . . . Seldom has anyone been so successful in making a newspaper come alive as a human institution."—The New York Times

In this century and the last, most of history's important news stories have been broken to a waiting nation by The New York Times. In The Kingdom and the Power, former Times correspondent and bestselling author Gay Talese lays bare the secret internal intrigues at the daily, revealing the stories behind the personalities, rivalries, and scopes at the most influential paper in the world. In gripping detail, Talese examines the private and public lives of the famed Ochs family, along with their direct descendants, the Sulzbergers, and their hobnobbing with presidents, kings, ambassadors, and cabinet members; the vicious struggles for power and control at the paper; and the amazing story of how a bankrupt newspaper turned itself around and grew to Olympian heights. 

Regarded as a classic piece of journalism, The Kingdom and the Power is as gripping as a work of fiction and as relevant as today's headlines.

Praise for The Kingdom and the Power

"I know of no book about a great institution which is so detailed, so intensely personalized, or so dramatized as this volume about The New York Times."—The Christian Science Monitor

"A serious and important account of one of the few genuinely powerful institutions in our society."—The New Leader

"A superb study of people and power."—Women's Wear Daily
About the Author
Gay Talese was a reporter for The New York Times from 1956 to 1965. Since then he has written for The New York Times, Esquire, The New Yorker, Harper's Magazine, and other national publications. He is the author of 13 books. He lives with his wife, Nan, in New York City.
Praise For The Kingdom and the Power: Behind the Scenes at The New York Times: The Institution That Influences the World…
"Beautifully documented . . . no less than a landmark in the field of writing and journalism."—The Nation

"Fascinating . . . Seldom has anyone been so successful in making a newspaper come alive as a human institution."—The New York Times

"I know of no book about a great institution which is so detailed, so intensely personalized, or so dramatized as this volume about The New York Times."—The Christian Science Monitor

"A serious and important account of one of the few genuinely powerful institutions in our society."—The New Leader

"A superb study of people and power."—Women's Wear Daily