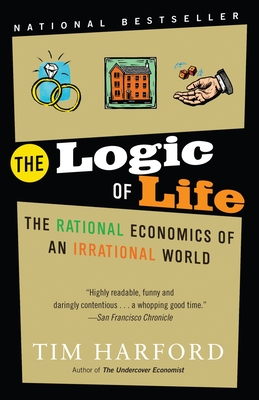 The Logic of Life
The Rational Economics of an Irrational World
Paperback

* Individual store prices may vary.
Other Editions of This Title:
Digital Audiobook (1/14/2008)
Digital Audiobook (1/14/2008)
Description
Life sometimes seems illogical. Individuals do strange things: take drugs, have unprotected sex, mug each other. Love seems irrational, and so does divorce. On a larger scale, life seems no fairer or easier to fathom: Why do some neighborhoods thrive and others become ghettos? Why is racism so persistent? Why is your idiot boss paid a fortune for sitting behind a mahogany altar? Thorny questions–and you might be surprised to hear the answers coming from an economist. But award-winning journalist Tim Harford likes to spring surprises. In this deftly reasoned book, he argues that life is logical after all. Under the surface of everyday insanity, hidden incentives are at work, and Harford shows these incentives emerging in the most unlikely places.
Praise For The Logic of Life: The Rational Economics of an Irrational World…
"Highly readable, funny and daringly contentious . . . a whopping good time."
–San Francisco Chronicle

"[Tim] Harford sets off on an enormously entertaining yarn backed by the findings of expert economists. He spins playfully, but smartly, across matters of sex, crime, gambling, addiction, marriage, racism, ghettos and politics, and he makes it all, well, titillating at times. Really."
–USA Today

"Harford has a knack for explaining economic principles and problems in plain language and, even better, for making them fun."
–The New York Times

"[Harford] is an amiable guide for the non-specialist reader . . . but his command of the subject is such that even a well-schooled economist will discover much that is new."
–The Economist

"Highly engaging . . . entertaining and provocative."
–Publishers Weekly

"A fascinating work with many 'aha' moments."
–Booklist

"Smart, charming, penetrating, and wise."
–Stephen J. Dubner, co-author of Freakonomics

"Chock-full of numbers and money talk, but oddly entertaining."
–Kirkus Reviews

"Charming and informative."
–Newsday

"Like Harford's earlier book, The Undercover Economist–if you haven't got it, get it–this book uses the basic theory of rational choice to make transparent the logic behind common but important puzzling phenomena. Even a trained economist can enjoy discovering what he didn't realize he already knew. I did."
–Thomas C. Schelling, 2005 Nobel Laureate in Economics

"This witty, intelligent book will help you see the entire world in a new light."
–Tyler Cowen, author of Discover Your Inner Economist

Random House Trade Paperbacks, 9780812977875, 272pp.
Publication Date: February 10, 2009
About the Author
Tim Harford is the author of the bestseller The Undercover Economist and The Logic of Life and a member of the editorial board of the Financial Times, where he also writes the "Dear Economist" column. He is a regular contributor to Slate, Forbes, and NPR's Marketplace. He was the host of the BBC TV series Trust Me, I'm an Economist and now presents the BBC series More or Less. Harford has been an economist at the World Bank and an economics tutor at Oxford University. He lives in London with his wife and two daughters.
or
Not Currently Available for Direct Purchase