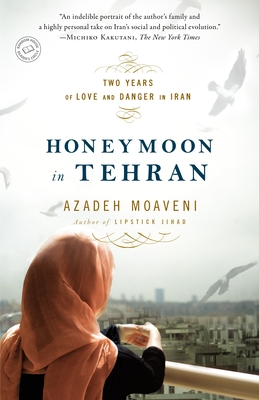 Honeymoon in Tehran: Two Years of Love and Danger in Iran (Paperback)
Two Years of Love and Danger in Iran
Random House Trade, 9780812977905, 368pp.
Publication Date: April 27, 2010
* Individual store prices may vary.
or
Not Currently Available for Direct Purchase
Description
Azadeh Moaveni, longtime Middle East correspondent for Time magazine, returns to Iran to cover the rise of President Mahmoud Ahmadinejad. Living and working in Tehran, she finds a nation that openly yearns for freedom and contact with the West but whose economic grievances and nationalist spirit find an outlet in Ahmadinejad's strident pronouncements. And then the unexpected happens: Azadeh falls in love with a young Iranian man and decides to get married and start a family in Tehran. Suddenly, she finds herself navigating an altogether different side of Iranian life. As women are arrested for "immodest dress" and the authorities unleash a campaign of intimidation against journalists, Azadeh is forced to make the hard decision that her family's future lies outside Iran. Powerful and poignant, Honeymoon in Tehran is the harrowing story of a young woman's tenuous life in a country she thought she could change.
About the Author
Azadeh Moaveni is the author of Lipstick Jihad and the co-author, with Nobel Peace Prize laureate Shirin Ebadi, of Iran Awakening. She has lived and reported throughout the Middle East, and speaks both Farsi and Arabic fluently. As one of the few American correspondents allowed to work continuously in Iran since 1999, she has reported widely on youth culture, women's rights, and Islamic reform for Time, The New York Times Book Review, The Washington Post, NPR, and the Los Angeles Times. Currently a Time magazine contributing writer on Iran and the Middle East, she lives with her husband and son in London. www.azadeh.info From the Hardcover edition.
Praise For Honeymoon in Tehran: Two Years of Love and Danger in Iran…
Advance praise for Honeymoon in Tehran

"This perfect blend of political commentary and social observation is an excellent choice for readers interested in going beyond the headlines to gain an in-depth understanding of twenty-first-century Iran."
–Booklist

"A rare, rich glimpse inside a closed society."
–Kirkus Reviews

"A story of coming-of-age in two cultures [written] with a keen eye and a measured tone."
–Publishers Weekly

"Sharp and written with ferociously brilliant reporting, Honeymoon in Tehran, Azadeh Moaveni's nuanced perspective on her ancestors' homeland, is without peer."
–Gary Shteyngart, author of Absurdistan

"Honeymoon in Tehran is a timely, well-written, and intimate exploration of the soul of Iran. With an eye for detail and a feel for her subject matter, Moaveni has brought to life a country that is at once immensely important to the West and deeply misunderstood. Honest, perceptive, and nuanced, this tale of love and anguish in the Islamic Republic is brimming with poignant political insights. This book will enchant and educate."
–Vali Nasr, author of The Shia Revival: How Conflicts Within Islam Will Shape the Future

"At a time when Iranian journalists were jailed and their newspapers regularly shut down, Time magazine correspondent Azadeh Moaveni managed to give voice to the Iranian psyche. Fearlessly, Moaveni pushed the limits of her Iranian government minder and refused to be intimidated. Her stories revealed the internal turmoil felt by many Iranians decades after the revolution. Honeymoon in Tehran is a powerful and compelling read that gives a face to the voices of discourse in Iran, voices that still long for a lawful society."
–Davar Ardalan, senior producer at NPR News and author of My Name Is Iran
Advertisement