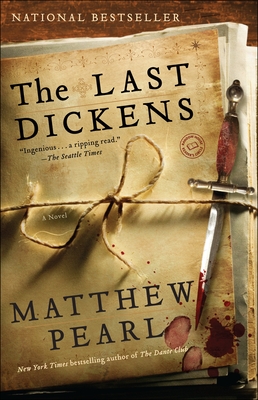 The Last Dickens (Paperback)
Random House Trade, 9780812978025, 393pp.
Publication Date: October 6, 2009
Description
Boston, 1870. When news of Charles Dickens's sudden death reaches his struggling American publisher, James Osgood sends his trusted clerk, Daniel Sand, to await the arrival of Dickens's unfinished final manuscript. But Daniel never returns, and when his body is discovered by the docks, Osgood must embark on a quest to find the missing end to the novel and unmask the killer. With Daniel's sister Rebecca at his side, Osgood races the clock through a dangerous web of opium dens, sadistic thugs, and literary lions to solve a genius's last mystery and save his own-and Rebecca's-lives.
About the Author
Matthew Pearl is the New York Times bestselling author of The Dante Club and The Poe Shadow, and the editor of the Modern Library editions of Dante's Inferno (translated by Henry Wadsworth Longfellow) and Edgar Allan Poe's The Murders in the Rue Morgue: The Dupin Tales. Pearl is a graduate of Harvard University and Yale Law School and has taught literature at Harvard and at Emerson College. He lives in Cambridge, Massachusetts. From the Hardcover edition.
Praise For The Last Dickens…
"A rousing yarn of opium, book pirating, murder most foul, man-on-man biting and other shenanigans—and that's just for starters.[The Last Dickens is] a pleasing whodunit that resolves nicely, bookending Dan Simmons's novel Drood (2009) as an imaginative exercise in what might be called alternative literary history.—Kirkus

"Just what do the seemingly disparate parts of the story have to do with one another? What the publisher becomes embroiled in, in London, is far more complicated than simply manuscript detection. A whole world of life-and-death nefariousness awaits both him and the reader, who will be well rewarded."—Booklist


"Well executed and tightly controlled…extremely clever."—Los Angeles Times

"Pearl's plot is ambitious and satisfying, involving a murder and a missing manuscript, the opium trade, the emerging publishing business In New York and Boston, and the predicament of single, divorced women in America in the 19th century. Fans of Dickens will appreciate Pearl's literary allusions and his thoroughly researched characterizations…"—Milwaukee Journal Sentinel

"Strongly recommended… Pearl enriches his story through an in-depth knowledge of Dickens's career and literary works."—Library Journal
Advertisement