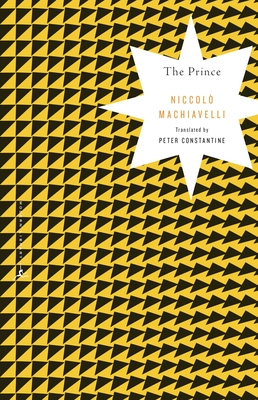 The Prince (Paperback)
Modern Library, 9780812978056, 126pp.
Publication Date: February 5, 2008
Description
A new translation by Peter Constantine
Introduction by Albert Russell Ascoli The first modern treatise of political philosophy, The Prince is one of the world's most influential and widely read books. Machiavelli reveals nothing less than the secrets of power: how to gain it, how to wield it, and how to keep it. Ruthless, cunning, and amoral, The Prince is a controversial analysis of manipulation and an essential guide for anyone interested in conquest, self-defense, or observation of dominance and control. The Introduction by noted Italian Renaissance scholar Albert Russell Ascoli provides a perfect opening to Peter Constantine's illuminating new translation of this seminal work. "Constantine elegantly captures in English the pith of Machiavelli's brilliant Italian prose."--Edward Muir, Clarence L. Ver Steeg Professor in the Arts and Sciences, Northwestern University
About the Author
Peter Constantine, winner of the PEN Translation Prize and a National Translation Award, has earned wide acclaim for his translation of The Undiscovered Chekhov and of the complete works of Isaac Babel, as well as for his Modern Library translations, which include The Essential Writings of Machiavelli, Gogol's Taras Bulba, Voltaire's Candide, and Tolstoy's The Cossacks. Albert Russell Ascoli is Gladys Arata Terrill Distinguished Professor of Italian Studies at the University of California, Berkeley, and was awarded the Rome Prize for study at the American Academy in Rome.
Praise For The Prince…
"Constantine elegantly captures in English the pith of Machiavelli's brilliant Italian prose."—Edward Muir, Clarence L. Ver Steeg Professor in the Arts and Sciences, Northwestern University
Advertisement