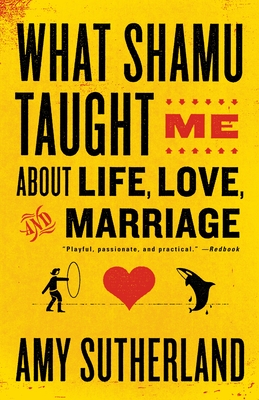 What Shamu Taught Me about Life, Love, and Marriage: Lessons for People from Animals and Their Trainers (Paperback)
Lessons for People from Animals and Their Trainers
Random House Trade, 9780812978087, 168pp.
Publication Date: April 14, 2009
Description
While observing trainers of exotic animals, journalist Amy Sutherland had an epiphany: What if she used their techniques with the human animals in her own life-specifically her dear husband, Scott? As Sutherland put training principles into action, she noticed that not only did her twelve-year-old marriage improve, but she herself became more optimistic and less judgmental. What started as a goofy experiment had such good results that Sutherland began using the training techniques with all the people in her life, including her mother, her friends, her students, even the clerk at the post office. Full of fun facts, fascinating insights, hilarious anecdotes, and practical tips, What Shamu Taught Me About Life, Love, and Marriage reveals the biggest lesson Sutherland learned: The only animal you can truly change is yourself.
About the Author
Amy Sutherland is the author of What Shamu Taught me About Life, Love, and Marriage; Kicked, Bitten, and Scratched and Cookoff. Her articles have appeared in The New York Times, Los Angeles Times, and The Boston Globe. She has a master's degree in journalism from Northwestern University. Her feature piece -What Shamu Taught Me About a Happy Marriage, - on which this book is based, was the most viewed and most e-mailed article of The New York Times online in 2006. Sutherland divides her time between Boston and Portland, Maine.
Praise For What Shamu Taught Me about Life, Love, and Marriage: Lessons for People from Animals and Their Trainers…
"Playful, passionate, and practical."—Redbook

"A compelling argument for using techniques from animal trainers to help change bad habits and improve relationships."—Atlanta Journal-Constitution

"Sutherland's a smart, engaging writer, and her stories about the hows and whys of exotic animal training are fun and fascinating."—Boston Sunday Globe

"Part self-help guide, part animal psychology textbook and part memoir . . . Sutherland has a breezy style."—New York Times Book Review

"In the little, private zoo known as marriage, it helps to remind yourself that you and your partner are just two bipedal primates trying to get along in intimate co-habitation."—Globe and Mail

"Wise and pragmatic advice . . . The thing I love most about this book is that every other paragraph, Sutherland's terrific wordsmithing, compelling logic, and anecdotes about exotic animals make me feel like she's tossed me a biscuit."—Martha Beck, author of Steering by Starlight and columnist for O: The Oprah Magazine

"Hilarious and persuasive."—Good Housekeeping

"Invaluable . . . It succeeds nicely as an animal-training guide, and amusingly as a relationship book."—Buffalo News
Advertisement