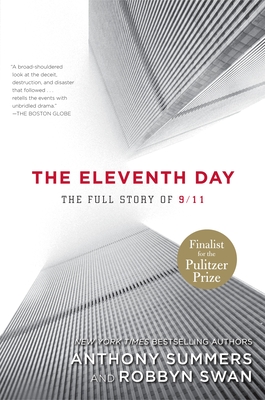 The Eleventh Day: The Full Story of 9/11 (Paperback)
The Full Story of 9/11
Ballantine Books, 9780812978094, 612pp.
Publication Date: August 14, 2012
Description
FINALIST FOR THE PULITZER PRIZE

For most living Americans, September 11, 2001, is the darkest date in the nation's history. But what exactly happened on 9/11? Could it have been prevented? And what remains unresolved? Here is the first panoramic, authoritative account of that tragic day--from the first brutal actions of the hijackers to our government's flawed response; from the untruths told afterward by U.S. officials to the "elephant in the room" of the 9/11 Commission's report--the clues that point to foreign involvement. New York Times bestselling authors Anthony Summers and Robbyn Swan write with access to thousands of recently released official documents, raw transcripts, fresh interviews, and the perspective that can come only from a decade of research and evaluation. Riveting, revelatory, and thoroughly sourced, The Eleventh Day is updated for this edition--with new reporting on a development that the former cochairman of Congress's 9/11 probe calls the most important in years. This is the essential one-volume work, required reading for us all. "Essential."--The Wall Street Journal

"Meticulous, comprehensive . . . an extraordinary synthesis."--John Farmer, 9/11 Commission senior counsel "This wide-angle look . . . examines the personalities behind the terror plot, U.S. intelligence blunders, the toxic environmental impact on first responders, the march to war, and] gray areas in the 9/11 Commission Report."--The Washington Post

"The best available general account of 9/11--soberly written, judiciously weighed, meticulously sourced."--The Sunday Times
About the Author
Anthony Summers is the award-winning author of seven bestselling nonfiction books. Originally a journalist, he covered events in the United States and the conflicts in Vietnam and the Middle East for the BBC's flagship current affairs program. Robbyn Swan, his co-author and wife, has partnered with Summers on three previous books--including biographies of FBI director J. Edgar Hoover and President Richard Nixon. They have been consultants on documentaries for PBS, the History Channel, CNN, and the BBC.
Praise For The Eleventh Day: The Full Story of 9/11…
"Essential."—The Wall Street Journal
 
"Meticulous, comprehensive . . . an extraordinary synthesis."—John Farmer, 9/11 Commission senior counsel
 
"This wide-angle look . . . examines the personalities behind the terror plot, U.S. intelligence blunders, the toxic environmental impact on first responders, the march to war, [and] gray areas in the 9/11 Commission Report."—The Washington Post
 
"The best available general account of 9/11—soberly written, judiciously weighed, meticulously sourced."—The Sunday Times
 
"A sweeping report on the Saudis' broad involvement in the 9/11 attacks."—Vanity Fair
 
"Tick-tock journalism . . . a micro-feel for a macro-event."—The Star-Ledger

"Stunning . . . retells [the] events with unbridled drama."—Boston Sunday Globe
Advertisement