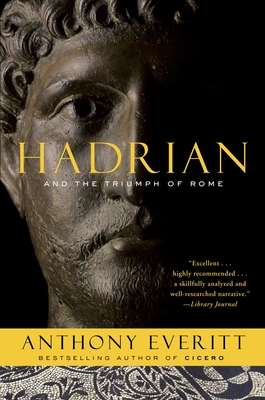 Hadrian and the Triumph of Rome (Paperback)
Random House Trade, 9780812978148, 392pp.
Publication Date: September 14, 2010
* Individual store prices may vary.
or
Not Currently Available for Direct Purchase
Description
Born in A.D. 76, Hadrian lived through and ruled during a tempestuous era, a time when the Colosseum was opened to the public and Pompeii was buried under a mountain of lava and ash. Acclaimed author Anthony Everitt vividly recounts Hadrian's thrilling life, in which the emperor brings a century of disorder and costly warfare to a peaceful conclusion while demonstrating how a monarchy can be compatible with good governance. What distinguished Hadrian's rule, according to Everitt, were two insights that inevitably ensured the empire's long and prosperous future: He ended Rome's territorial expansion, which had become strategically and economically untenable, by fortifying her boundaries (the many famed Walls of Hadrian), and he effectively "Hellenized" Rome by anointing Athens the empire's cultural center, thereby making Greek learning and art vastly more prominent in Roman life. By making splendid use of recently discovered archaeological materials and his own exhaustive research, Everitt sheds new light on one of the most important figures of the ancient world.
About the Author
Anthony Everitt, visiting professor in the visual and performing arts at Nottingham Trent University, has written extensively on European culture, and is the author of Cicero and Augustus. He has served as secretary general of the Arts Council of Great Britain. Everitt lives near Colchester, England's first recorded town, founded by the Romans.
Praise For Hadrian and the Triumph of Rome…
 
"Excellent . . . highly recommended . . . a skillfully analyzed and well-researched narrative."
—Library Journal
 
"One gets a clear and compelling sense of Hadrian's times."
—The New Yorker
 
"[A] skillful portrait . . . The author of biographies of Augustus and Cicero, British scholar Everitt now combines academic expertise with lively prose in a satisfying account of the emperor."
—Publishers Weekly

Advertisement