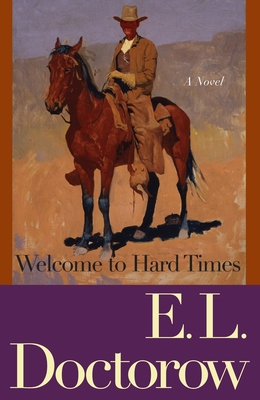 Welcome to Hard Times (Paperback)
A Novel
Random House Trade Paperbacks, 9780812978223, 224pp.
Publication Date: September 11, 2007
Other Editions of This Title:
Digital Audiobook (6/2/2014)
Paperback (7/1/1996)
* Individual store prices may vary.
Description
Here is E. L. Doctorow's debut novel, a searing allegory of frontier life that sets the stage for his subsequent classics.

Hard Times is the name of a town in the barren hills of the Dakota Territory. To this town there comes one day one of the reckless sociopaths who wander the West to kill and rape and pillage. By the time he is through and has ridden off, Hard Times is a smoking ruin. The de facto mayor, Blue, takes in two survivors of the carnage–a boy, Jimmy, and a prostitute, Molly, who has suffered unspeakably–and makes them his provisional family. Blue begins to rebuild Hard Times, welcoming new settlers, while Molly waits with vengeance in her heart for the return of the outlaw.

Praise for Welcome to Hard Times

"A forceful, credible story of cowardice and evil."—The Washington Post

"We are caught up with these people as real human beings."—Chicago Sun-Times

"Dramatic and exciting."—The New York Times

"Terse and powerful."—Newsweek

"A taut, bloodthirsty read."—The Times Literary Supplement

"A superb piece of fiction."—The New Republic

About the Author
E. L. Doctorow's works of fiction include Welcome to Hard Times, The Book of Daniel, Ragtime, Loon Lake, World's Fair, Billy Bathgate, The Waterworks, City of God, The March, Homer & Langley, and Andrew's Brain. Among his honors are the National Book Award, three National Book Critics Circle awards, two PEN/Faulkner awards, and the presidentially conferred National Humanities Medal. In 2009 he was shortlisted for the Man Booker International Prize, honoring a writer's lifetime achievement in fiction, and in 2012 he won the PEN/ Saul Bellow Award for Achievement in American Fiction, given to an author whose "scale of achievement over a sustained career places him in the highest rank of American literature." In 2013 the American Academy of Arts and Letters awarded him the Gold Medal for Fiction. In 2014 he was honored with the Library of Congress Prize for American Fiction.
Praise For Welcome to Hard Times: A Novel…
"A forceful, credible story of cowardice and evil."—The Washington Post

"We are caught up with these people as real human beings."—Chicago Sun-Times

"Dramatic and exciting."—The New York Times

"Terse and powerful."—Newsweek

"A taut, bloodthirsty read."—The Times Literary Supplement

"A superb piece of fiction."—The New Republic