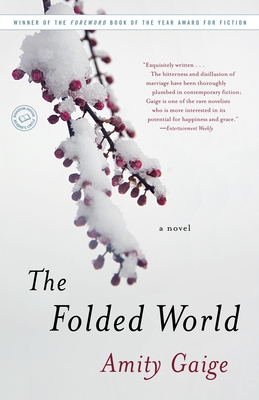 The Folded World
A Novel
Paperback

* Individual store prices may vary.
Other Editions of This Title:
Hardcover (5/17/2007)
Description
When Charlie Shade and Alice Bussard find each other, neither is prepared for the powerful, aching feeling of love that unites them. After falling for the cheerful and empathetic young man, Alice asks God: "Please, leave us alone. Leave us just like this." But as their relationship evolves, and their family grows with the addition of twin girls, so too does Charlie's career as a social worker. Drawn to people in crisis, Charlie struggles to remain neutral when dealing with the troubled souls he meets. But as boundaries begin to blur and temptations arise at work and at home, Charlie and Alice head toward an emotional collision that will challenge their marriage in ways they never thought possible.
Praise For The Folded World: A Novel…
"Exquisitely written . . . The bitterness and disillusion of marriage have been thoroughly plumbed in contemporary fiction; Gaige is one of the rare novelists who is more interested in its potential for happiness and grace."
–Entertainment Weekly

"Exhilarating . . . captivating . . . a beautiful story wonderfully told . . . highly recommended."
–Library Journal

"In this tightly-written and emotionally satisfying novel, a young couple's marriage is thrown into jeopardy by the husband's workaholic tendencies… [Gaige] is extraordinarily adept at revealing her characters' personalities in just a few words… Stirring." —New York Times Book Review

"The Folded World will appeal to readers who like to dive into the muck of internal and interpersonal conflicts, and break the surface with breath born of insight and empathy. Amity Gaige's second novel lives up to the reputation she earned with her first one, as an original, compelling voice." —Chicago Tribune (Favorite Books of 2007)

"The Folded World is more than a novel: it's a revelation, about what it means to love romantically in this problematic world. Charlie and Alice Shade's marriage… inspires us to consider our own attachments in a new, radiant light." —Ken Kalfus, author of A Disorder Peculiar to the Country

"Amity Gaige is terrific.  Once again she reveals her virtuoso ability to translate the complicated ambiguity of our most haunting feelings, and our closest relationships, into dazzling prose.  For the reader who has been fortified by love's endurance, baffled by its fragility, and awestruck by the hurricane force with which it hits, The Folded World strikes deep and true." —Christopher Sorrentino, author of Trance

"Gaige was honored as one of the National Book Foundation's "5 [exceptional authors] under 35" for her debut, O My Darling (2005). Her second time around again showcases a gift for capturing the simultaneous proximity and distance in a relationship… Gaige's off-beat orientation, wit and piercing insights stand up to her first novel, this time in a more sober and less tidy narrative that offers greater breadth in exchange for sweetness."
— Kirkus (starred review)

"One of Gaige's triumphs is her ability to sustain narrative momentum; as the story progresses and the characters deepen… the book becomes truly gripping. The scenes are so finely crafted, the narrative movement so fluid, it becomes impossible to resist being swept into the world of Alice and Charlie… The Folded World entices one to read with both hunger and patience." —The Literary Review (Editor's Choice)

"In reading Charlie and Alice's story, I was struck by three things: Gaige's crystalline prose, the three-dimensionality of all of her characters, even the minor ones, and her ability to convey the darkness in the minds of Charlie's clients, who are suffering from schizophrenia or other mental illnesses. Gaige… offers us something very special indeed." —Nancy Pearl, National Public Radio

"Gaige (one of the National Book Foundation's "5 under 35") writes elegantly, and she makes the survival of this young marriage a question of grace. Grade: A-." —Christian Science Monitor

"The Folded World is an artfully-rendered portrait of Charlie and his wife, a meditation on love, relationships and responsibility, and an exploration of what exactly constitutes the dividing line between sanity and madness… The often-awkward (and sometimes wrenching) dance of the care provider who must know people intimately, yet simultaneously keep them at arm's length… is portrayed here to stunning effect." —The Providence Journal

Amity Gaige is the Winner of the ForeWord Book of the Year Award for Fiction
Random House Trade Paperbacks, 9780812978544, 320pp.
Publication Date: February 10, 2009
About the Author
Amity Gaige is a graduate of Brown University and the Iowa Writers' Workshop. She is the author of the acclaimed novel O My Darling, chosen by the National Book Foundation for its "5 Under 35" program to recognize the achievements of five first-time fiction writers each year. Gaige is the winner of a Fulbright Fellowship and a Guggenheim Fellowship.
or
Not Currently Available for Direct Purchase