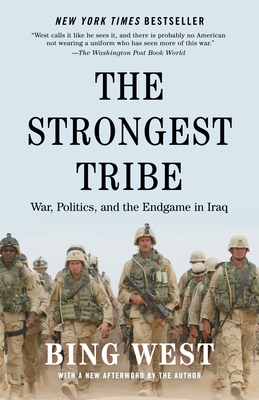 The Strongest Tribe (Paperback)
War, Politics, and the Endgame in Iraq
Random House Trade Paperbacks, 9780812978667, 480pp.
Publication Date: September 15, 2009
Other Editions of This Title:
Hardcover (8/12/2008)
* Individual store prices may vary.
Description
In Iraq, the United States made mistake after mistake. Many Americans gave up on the war. Then two generals—David Petraeus and Raymond Odierno—displayed the leadership America expected. Bringing the reader from the White House to the fighting in the streets, combat journalist and bestselling author Bing West explains this astounding turnaround by U.S. forces. In the course of fifteen extended trips over five years, West embedded with more than sixty front-line units, discussing strategy with generals and tactics with corporals. Disposing of myths, he provides an expert's account of the counterinsurgency. This is the definitive study of how American soldiers actually fought.
About the Author
Bing West was assistant secretary of defense for international security affairs under President Ronald Reagan. He served in the Marine infantry in Vietnam. Later, as an analyst at the RAND Corporation, he wrote the Vietnam classic The Village, that war colleges use as a primer in counterinsurgency. As a correspondent for The Atlantic Monthly, West has covered the war for five years. His books on Iraq - No True Glory: A Frontline Account of the Battle for Fallujah and The March Up: Taking Baghdad with the United States Marines (co-authored with MajGen Ray Smith)–have won the Marine Corps Heritage Foundation's General Wallace M. Greene Jr. Award for nonfiction, the Colby Award for military nonfiction, and the Veteran of Foreign Wars Media Award. West is a member of the Council on Foreign Relations; his articles appear in The New York Times, The Wall St. Journal, and other major newspapers. He appears on National Public Radio and The Newshour with Jim Lehrer.
Praise For The Strongest Tribe: War, Politics, and the Endgame in Iraq…
"Balanced, panoramic assessment of the Iraq War by former Marine and Reagan administration veteran West (No True Glory, 2005, etc.), who heralds American soldiers as its unsung heroes amid the "fog of Washington". . .A timely, eye-opening historical analysis that provides clarity around the difficult choices the next president faces." —Kirkus, starred review

"In this important new chronicle of the war in Iraq, Bing West reveals how America reached the brink of defeat in 2006 and then managed in 2007 to stage a stunning turnaround. With its vivid, on-the-ground reporting, his book is a fitting tribute to the honor, valor, and toughness of our soldiers. Notwithstanding numerous mistakes by their leaders, West shows that their sacrifices have made success possible—as long we do not withdraw prematurely."—Senator John S. McCain

"Sometimes the best way to support the troops is to criticize the generals. Bing West does both well in this book, showing a sympathy for our soldiers and Marines, but also a great ear for military truth and a determination to render events accurately. This is his third and most important book about the Iraq war. Read it."
—Thomas E. Ricks, author of FIASCO: The American Military Adventure in Iraq

"A brilliant exposition. Based on extensive experience in the war zone, Bing West recounts how Soldiers and Marines showed the President and the Pentagon the way to solve the Iraq insurgency problem. Echoing the admonition that "all politics are local", The Strongest Tribe convincingly argues that it was a grass roots strategy developed by on-scene officers who forged ties at the tribal level that brought stability to Iraq's turbulent Anbar Province and provided hope for all Iraq."
—Lt. Gen. Bernard E. Trainor USMC (Ret.) Co-author of The Generals' War
and COBRA II: The Inside Story of the Invation and Occupation of Iraq

"Some four decades ago I told Bing West that his book, the Village, would become a classic in counterinsurgency warfare. And so it did. "The Strongest Tribe" will surely be West's second classic—a moving and detailed account of almost six years of war in Iraq." —Dr. James R. Schlesinger, Director of Central Intelligence Agency, Nixon administration; Secretary of Defense, Ford administration; Chairman, The Mitre Corporation

"West calls it like he sees it, and there is probably no American not wearing a uniform who has seen more of this war." —Washington Post Book World
"An authoritative testament . . . full of eyewitness accounts . . . [Bing] West, who served in Vietnam as a Marine infantry officer, is more than a battlefield observer. He is a military analyst who wants to show how counterinsurgency works."—Wall Street Journal
or
Not Currently Available for Direct Purchase