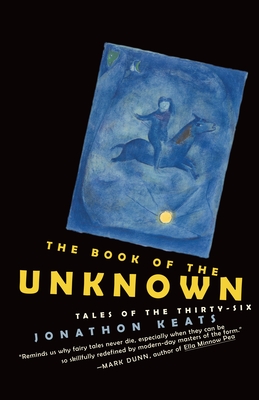 The Book of the Unknown
Tales of the Thirty-six
Paperback

* Individual store prices may vary.
Description
Marvelous and mystical stories of the thirty-six anonymous saints whose decency sustains the world–reimagined from Jewish folklore.

A liar, a cheat, a degenerate, and a whore. These are the last people one might expect to be virtuous. But a legendary Kabbalist has discovered the truth: they are just some of the thirty-six hidden ones, the righteous individuals who ultimately make the world a better place. In these captivating stories, we meet twelve of the secret benefactors, including a timekeeper's son who shows a sleepless village the beauty of dreams; a gambler who teaches a king ruled by the tyranny of the past to roll the dice; a thief who realizes that his job is to keep his fellow townsfolk honest; and a golem–a woman made of mud–who teaches kings and peasants the real nature of humanity.

With boundless imagination and a delightful sense of humor, acclaimed writer and artist Jonathon Keats has turned the traditional folktale on its head, creating heroes from the unlikeliest of characters, and enchanting readers with these stunningly original fables.
Praise For The Book of the Unknown: Tales of the Thirty-six…
"Echoes of Isaac Bashevis Singer, Sholom Aleichem and S.Y. Agnon sound throughout this high-concept collection's engaging stories….Unusual and charming stories that successfully revive a nearly forgotten form of storytelling. One hopes we will hear more of these Lamedh-Vov and their all-too-human struggles and triumphs." — Kirkus Reviews"These charming stories, told with authority–yet oddly delicate and wholly delightful–are enchanting. To read them is to become transfixed with that long-forgotten childhood wonder. One feels in the hands of a masterful and magical storyteller."–Elizabeth Strout, author of Olive Kitteridge"In his fantastic and fantastical collection, Jonathon Keats creates an original and captivating world of surprise where scoundrels are saints and dreams descend on villages like rain. There's mystery and magic on every page, and a deeply inspiring humanity at the heart of every fable. Finally, a writer who understands that adults need fairy tales as much, if not more, than children."—Bret Anthony Johnston, author of Corpus Christi: Stories, and director of the creative writing program at Harvard University"The Book of the Unknown is based on ancient Jewish lore and set in pre-modern Eastern Europe.  Add Jonathon Keats'  21st-century American sensibility,  and the result is a delightful and provocative brew–one of a kind." —Janet Hadda, author of Isaac Bashevis Singer: A Life, and Professor of Yiddish Emerita at UCLA "The Book of the Unknown earns Jonathon Keats a place in line with Rabbi Nahman of Bratslav and Isaac Bashevis Singer. In language at once phantasmagorical, seductive, and reverent, Keats imagines the preposterous misadventures of people who are so holy they are unknown even to themselves. And, in so doing, he reopens the Jewish folk imagination–and our own." —Lawrence Kushner, author of Kabbalah: A Love Story, and The Emanu-El Scholar at Congregation Emanu-El of San Francisco "Keats' world is a fun one. His allegorical world resembles some hybrid of Robin Hood's Sherwood Forest and Shrek's moss-covered environs."--Booklist"Keats seizes upon the idea of the 36 righteous ones who preserve the world from destruction by their goodness [and] brilliantly turns the concept on its head …Highly recommended." –Library Journal, starred review
Random House Trade Paperbacks, 9780812978971, 240pp.
Publication Date: February 10, 2009
About the Author
Jonathon Keats is the author of The Pathology of Lies and has written for Wired, The Washington Post, and San Francisco magazine, among other publications. Keats has been awarded fellowships by Yaddo, the MacDowell Colony, and the Ucross Foundation, and has chaired the National Book Critics Circle fiction award committee. He lives in San Francisco.
or
Not Currently Available for Direct Purchase