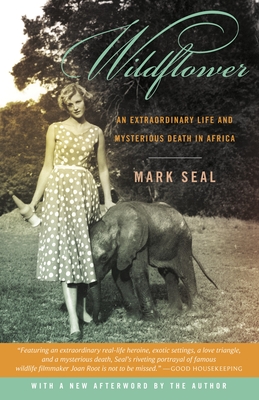 Wildflower: An Extraordinary Life and Mysterious Death in Africa (Paperback)
An Extraordinary Life and Mysterious Death in Africa
Random House Trade, 9780812979091, 234pp.
Publication Date: July 13, 2010
Description
With compassion and an unswerving regard for the truth, veteran journalist Mark Seal lays bare the deeply moving, inspirational story of Joan Root, a dedicated environmentalist and Oscar-nominated wildlife filmmaker. He covers her early days in Kenya as a shy young woman with an almost uncanny ability to connect to animals; her whirlwind courtship with the dashing Alan Root, their marriage, and the twenty years of nonstop adventure and passionate romance that followed, both in Africa and around the world; the shattering disintegration of the marriage and partnership; and Joan's triumphant struggle to reinvent herself as the protector of her lakeshore community's fragile ecosystem a struggle that would lead to her tragic death in January 2006. Joan Root dreamed of a bright future for Kenya, a country blessed with unmatched beauty but scarred by decades of colonization and a culture of corruption. She spent her life fighting to make that dream a reality. Her life ended too soon, but thanks to Seal's meticulous re-creation, her extraordinary life lives on. ("People," four-star review)
About the Author
Mark Seal has been a journalist for more than thirty years. Currently a contributing editor at "Vanity Fair," he has written for many major magazines and served as a collaborator on almost twenty nonfiction books. Although he has written thousands of stories, Seal says none has struck a chord with readers more than the story of the incredible life and brutal death of Joan Root, which he originally reported in the August 2006 issue of "Vanity Fair." He lives in Aspen, Colorado. "From the Hardcover edition."
Praise For Wildflower: An Extraordinary Life and Mysterious Death in Africa…
 
"Featuring an extraordinary real-life heroine, exotic settings, a love triangle, and a mysterious death, [Mark] Seal's riveting portrayal of famous wildlife filmmaker Joan Root is not to be missed."—Good Housekeeping 
 
"Compelling . . . [a] strange, brutal, sad and beautiful story . . . a vivid and intensely captivating chronicle of fairy-tale lives played out against a once wild and seductive backdrop that is quickly disappearing."—Minneapolis Star Tribune
 
"Fascinating . . . [Mark Seal pulls] various elements into a compelling narrative: the personal love story. The physical splendor of Africa and its endangered wildlife."—USA Today
 
"More significant than Seal's investigation into Root's murder is his portrait of this extraordinary adventurer."—Washington Post
 
"Transports readers into the midst of an incandescent, doomed life."—Kirkus Reviews


Advertisement