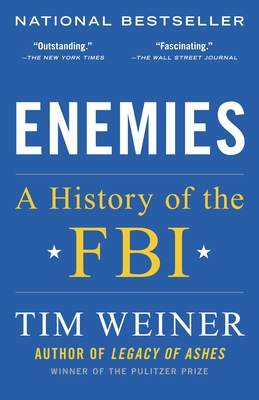 Enemies (Paperback)
A History of the FBI
Random House Trade Paperbacks, 9780812979237, 560pp.
Publication Date: February 26, 2013
Other Editions of This Title:
Digital Audiobook (2/13/2012)
Hardcover (2/14/2012)
Compact Disc (2/14/2012)
Compact Disc (1/1/2012)
Hardcover (3/1/2012)
* Individual store prices may vary.
Description
The hidden history of the FBI and its hundred-year war against terrorists, spies, and anyone it deemed subversive—including even American presidents.
 
NEW YORK TIMES BESTSELLER • NOW A SHOWTIME ORIGINAL DOCUMENTARY SERIES
 
"Turns the long history of the FBI into a story that is as compelling, and important, as today's headlines."—Jeffrey Toobin, author of American Heiress
 
Enemies is the first definitive history of the FBI's secret intelligence operations, from an author whose work on the Pentagon and the CIA won him the Pulitzer Prize and the National Book Award.
 
We think of the FBI as America's police force. But secret intelligence is the Bureau's first and foremost mission. The FBI's secret intelligence and surveillance techniques have created a tug-of-war between national security and civil liberties, a tension that strains the very fabric of a free republic. Enemies is the story of how presidents have used the FBI to conduct political warfare—and how it has sometimes been turned against them. And it is the story of how the Bureau became the most powerful intelligence service the United States possesses.

Named One of the Best Books of the Year by The Washington Post, New York Daily News, and Slate

"Pulitzer Prize–winning author Tim Weiner has written a riveting inside account of the FBI's secret machinations that goes so deep into the Bureau's skulduggery, readers will feel they are tapping the phones along with J. Edgar Hoover. This is a book that every American who cares about civil liberties should read."—Jane Mayer, author of Dark Money

"Outstanding."—The New York Times

"Absorbing . . . a sweeping narrative that is all the more entertaining because it is so redolent with screw-ups and scandals."—Los Angeles Times

"Fascinating."—The Wall Street Journal

"Important and disturbing . . . with all the verve and coherence of a good spy thriller."—The New York Times Book Review

"Exciting and fast-paced."—The Daily Beast
About the Author
Tim Weiner has won the Pulitzer Prize for his reporting and writing on secret intelligence and national security. As a correspondent for The New York Times, he covered the Central Intelligence Agency in Washington and terrorism in Afghanistan, Pakistan, the Sudan, and other nations. Enemies is his fourth book. His Legacy of Ashes: The History of the CIA won the National Book Award and was acclaimed as one of the year's best books by The New York Times, The Economist, The Washington Post, Time, and many other publications. The Wall Street Journal called Betrayal "the best book ever written on a case of espionage." He is now working on a history of the American military.
Praise For Enemies: A History of the FBI…
"Outstanding."—The New York Times
 
"Fast-paced, fair-minded, and fascinating, Tim Weiner's Enemies turns the long history of the FBI into a story that is as compelling, and important, as today's headlines."—Jeffrey Toobin, author of The Oath
 
"Absorbing . . . a sweeping narrative that is all the more entertaining because it is so redolent with screw-ups and scandals."—Los Angeles Times
 
"Fascinating."—The Wall Street Journal
 
"Pulitzer Prize–winning author Tim Weiner has written a riveting inside account of the FBI's secret machinations that goes so deep into the Bureau's skulduggery, readers will feel they are tapping the phones along with J. Edgar Hoover. This is a book that every American who cares about civil liberties should read."—Jane Mayer, author of The Dark Side
 
"Important and disturbing . . . with all the verve and coherence of a good spy thriller."—The New York Times Book Review
 
"Exciting and fast-paced."—The Daily Beast