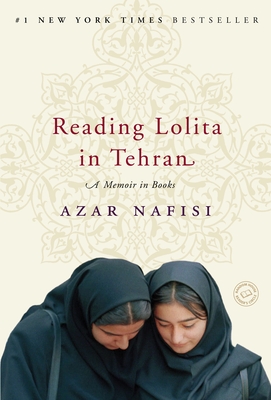 Reading Lolita in Tehran
A Memoir in Books
Paperback

* Individual store prices may vary.
Other Editions of This Title:
Digital Audiobook (3/21/2016)
Paperback (12/30/2003)
Prebound (12/30/2003)
Description
#1 NEW YORK TIMES BESTSELLER • We all have dreams—things we fantasize about doing and generally never get around to. This is the story of Azar Nafisi's dream and of the nightmare that made it come true.

For two years before she left Iran in 1997, Nafisi gathered seven young women at her house every Thursday morning to read and discuss forbidden works of Western literature. They were all former students whom she had taught at university. Some came from conservative and religious families, others were progressive and secular; several had spent time in jail. They were shy and uncomfortable at first, unaccustomed to being asked to speak their minds, but soon they began to open up and to speak more freely, not only about the novels they were reading but also about themselves, their dreams and disappointments. Their stories intertwined with those they were reading—Pride and Prejudice, Washington Square, Daisy Miller and Lolita—their Lolita, as they imagined her in Tehran.

Nafisi's account flashes back to the early days of the revolution, when she first started teaching at the University of Tehran amid the swirl of protests and demonstrations. In those frenetic days, the students took control of the university, expelled faculty members and purged the curriculum. When a radical Islamist in Nafisi's class questioned her decision to teach The Great Gatsby, which he saw as an immoral work that preached falsehoods of "the Great Satan," she decided to let him put Gatsby on trial and stood as the sole witness for the defense.

Azar Nafisi's luminous tale offers a fascinating portrait of the Iran-Iraq war viewed from Tehran and gives us a rare glimpse, from the inside, of women's lives in revolutionary Iran. It is a work of great passion and poetic beauty, written with a startlingly original voice.

Praise for Reading Lolita in Tehran

"Anyone who has ever belonged to a book group must read this book. Azar Nafisi takes us into the vivid lives of eight women who must meet in secret to explore the forbidden fiction of the West. It is at once a celebration of the power of the novel and a cry of outrage at the reality in which these women are trapped. The ayatollahs don' t know it, but Nafisi is one of the heroes of the Islamic Republic."—Geraldine Brooks, author of Nine Parts of Desire
Praise For Reading Lolita in Tehran: A Memoir in Books…
"Resonant and deeply affecting . . . an eloquent brief on the transformative
powers of fiction–on the refuge from ideology that art can
offer to those living under tyranny, and art's affirmative and subversive
faith in the voice of the individual."
–MICHIKO KAKUTANI, The New York Times

"[A] vividly braided memoir . . . Anguished and glorious."
–CYNTHIA OZICK, The New Republic

"Certain books by our most talented essayists . . . carry inside their covers
the heat and struggle of a life's central choice being made and the
price being paid, while the writer tells us about other matters, and
leaves behind a path of sadness and sparkling loss. Reading Lolita in
Tehran is such a book." –MONA SIMPSON, The Atlantic Monthly

"A poignant, searing tale about the secret ways Iranian women defy the
regime. . . . [Nafisi] makes you want to rush back to all these books to
experience the hidden aspects she's elucidated." –Salon

"A quietly magnificent book . . . [Nafisi's] passion is irresistible."
–LA Weekly

"Azar Nafisi's memoir makes a good case for reading the classics of
Western literature no matter where you are. . . . [Her] perspective on
her students' plight, the ongoing struggle of Iranian citizens, and her
country's violent transformation into an Islamic state will provide
valuable insights to anyone interested in current international events."
–HEATHER HEWETT, The Christian Science Monitor

"An intimate memoir of life under a repressive regime and a celebration
of the vitality of literature . . . as rich and profound as the novels
Nafisi teaches." –The Miami Herald

"An inspiring account of an insatiable desire for intellectual freedom."
–USA Today

"Transcends categorization as memoir, literary criticism or social history,
though it is superb as all three . . . Nafisi has produced an original
work on the relationship between life and literature."
–Publishers Weekly (starred review)

"Nafisi's passion for books is infectious, and her description of the
effect of the revolution on its people is unforgettable."
–Rocky Mountain News

"[A] sparkling memoir . . . a spirited tribute both to the classics of
world literature and to resistance against oppression."
–Kirkus Reviews (starred review)

"Nafisi artfully intertwines her own coming-of-age in pre-Revolutionary
Tehran with the daily frustrations of her pupils. . . . [She] relates her
girls' moving stories with great sympathy." –Entertainment Weekly

"[Nafisi] reminds us why we read in the first place." –Newsday

"As timely as it is well-written . . . As the world seems to further divide
itself into them and us, Nafisi reminds her readers of the folly of
thinking in black and white." –Cleveland Plain Dealer

"Readers will have a new appreciation for the worn Nabokov and James
titles on their bookshelves after reading Nafisi's engaging memoir."
–Minneapolis Star Tribune

"Nafisi's writing has painterly qualities. . . . She is able to capture a
moment and describe it with ease and melancholy. . . . Reading Lolita in
Tehran is much more than a literary memoir; it becomes a tool for
teaching us how to construe literature in a new, more meaningful
way." –Library Journal

"Brilliant . . . So much is right with this book, if not with this world."
–The Boston Globe

"I was enthralled and moved by Azar Nafisi's account of how she defied,
and helped others to defy, radical Islam's war against women.
Her memoir contains important and properly complex reflections
about the ravages of theocracy, about thoughtfulness, and about the
ordeals of freedom–as well as a stirring account of the pleasures and
deepening of consciousness that result from an encounter with great
literature and with an inspired teacher." –SUSAN SONTAG

"A memoir about teaching Western literature in revolutionary Iran,
with profound and fascinating insights into both. A masterpiece."
–BERNARD LEWIS, author of What Went Wrong?

"Anyone who has ever belonged to a book group must read this book.
Azar Nafisi takes us into the vivid lives of eight women who must
meet in secret to explore the forbidden fiction of the west. It is at once
a celebration of the power of the novel and a cry of outrage at the reality
in which these women are trapped. The ayatollahs don't know it,
but Nafisi is one of the heroes of the Islamic Republic."
–GERALDINE BROOKS, author of Nine Parts
of Desire and Year of Wonders

"When I first saw Azar Nafisi teach, she was standing in a university
classroom in Tehran, holding a bunch of red fake poppies in one hand
and a bouquet of daffodils in the other, and asking, what is kitsch?
Now, mesmerizingly, she reveals the shimmering worlds she created
in those classrooms, inside a revolution that was an apogee of kitsch
and cruelty. Here, people think for themselves because James and
Fitzgerald and Nabokov sing out against authoritarianism and repression.
You will be taken inside a culture, and on a journey, that you will
never forget." –JACKI LYDEN, author of Daughter of the
Queen of Sheba
Random House Trade Paperbacks, 9780812979305, 400pp.
Publication Date: November 4, 2008
About the Author
AZAR NAFISI is a visiting professor and the director of the Dialogue Project at the Foreign Policy Institute of Johns Hopkins University. She has taught Western literature at the University of Tehran, the Free Islamic University, and the University of Allameh Tabatabai in Iran. In 1981 she was expelled from the University of Tehran after refusing to wear the veil. In 1994 she won a teaching fellowship from Oxford University, and in 1997 she and her family left Iran for America. She has written for The New York Times, The Washington Post, The Wall Street Journal, and The New Republic and has appeared on countless radio and television programs. She lives in Washington, D.C., with her husband and two children.