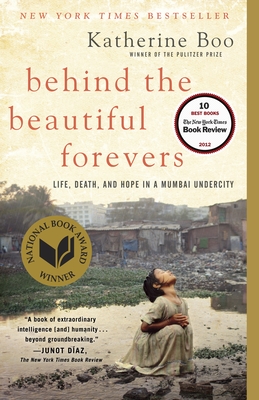 Behind the Beautiful Forevers
Life, death, and hope in a Mumbai undercity
Paperback

* Individual store prices may vary.
Other Editions of This Title:
Digital Audiobook (2/6/2012)
Hardcover (2/7/2012)
Paperback, Large Print (2/26/2013)
Prebound (4/8/2014)
Paperback, Chinese (8/4/2012)
Description
NEW YORK TIMES BESTSELLER • NATIONAL BOOK AWARD WINNER • NAMED ONE OF TIME'S TEN BEST NONFICTION BOOKS OF THE DECADE

"Inspiring . . . extraordinary . . . [Katherine Boo] shows us how people in the most desperate circumstances can find the resilience to hang on to their humanity. Just as important, she makes us care."—People

"A tour de force of social justice reportage and a literary masterpiece."—Judges, PEN/John Kenneth Galbraith Award 

ONE OF THE TEN BEST BOOKS OF THE YEAR BY The New York Times • The Washington Post • O: The Oprah Magazine • USA Today • New York • The Miami Herald • San Francisco Chronicle • Newsday

In this breathtaking book by Pulitzer Prize winner Katherine Boo, a bewildering age of global change and inequality is made human through the dramatic story of families striving toward a better life in Annawadi, a makeshift settlement in the shadow of luxury hotels near the Mumbai airport.

As India starts to prosper, the residents of Annawadi are electric with hope. Abdul, an enterprising teenager, sees "a fortune beyond counting" in the recyclable garbage that richer people throw away. Meanwhile Asha, a woman of formidable ambition, has identified a shadier route to the middle class. With a little luck, her beautiful daughter, Annawadi's "most-everything girl," might become its first female college graduate. And even the poorest children, like the young thief Kalu, feel themselves inching closer to their dreams. But then Abdul is falsely accused in a shocking tragedy; terror and global recession rock the city; and suppressed tensions over religion, caste, sex, power, and economic envy turn brutal. 

With intelligence, humor, and deep insight into what connects people to one another in an era of tumultuous change, Behind the Beautiful Forevers, based on years of uncompromising reporting, carries the reader headlong into one of the twenty-first century's hidden worlds—and into the hearts of families impossible to forget. 

WINNER OF: The PEN Nonfiction Award • The Los Angeles Times Book Prize • The American Academy of Arts and Letters Award • The New York Public Library's Helen Bernstein Book Award

NAMED ONE OF THE BEST BOOKS OF THE YEAR BY The New Yorker • People • Entertainment Weekly • The Wall Street Journal • The Boston Globe • The Economist • Financial Times • Foreign Policy • The Seattle Times • The Nation • St. Louis Post-Dispatch • The Denver Post • Minneapolis Star Tribune • The Week • Kansas City Star • Slate •  Publishers Weekly
Praise For Behind the Beautiful Forevers: Life, death, and hope in a Mumbai undercity…
"This book is both a tour de force of social justice reportage and a literary masterpiece."—Judges' Citation for the PEN/John Kenneth Galbraith Award

"A book of extraordinary intelligence [and] humanity . . . beyond groundbreaking."—Junot Díaz, The New York Times Book Review

"Reported like Watergate, written like Great Expectations, and handily the best international nonfiction in years."—New York

"Incandescent writing and excruciatingly good storytelling."—The Philadelphia Inquirer
 
"Outstanding."—USA Today
 
"A richly detailed tapestry of tragedy and triumph told by a seemingly omniscient narrator with an attention to detail that reads like fiction while in possession of the urgent humanity of nonfiction."—Los Angeles Times
 
"Rends the heart, thrills the mind, pricks the conscience, and burns the pages."—Washingtonian

"[An] exquisitely accomplished first book. Novelists dream of defining characters this swiftly and beautifully, but Ms. Boo is not a novelist. She is one of those rare, deep-digging journalists who can make truth surpass fiction, a documentarian with a superb sense of human drama. She makes it very easy to forget that this book is the work of a reporter. . . . Comparison to Dickens is not unwarranted."—Janet Maslin, The New York Times
 
"A jaw-dropping achievement, an instant classic of narrative nonfiction . . . With a cinematic intensity . . . Boo transcends and subverts every cliché, cynical or earnest, that we harbor about Indian destitution and gazes directly into the hearts, hopes, and human promise of vibrant people whom you'll not soon forget."—Elle

"Riveting, fearlessly reported . . . [Behind the Beautiful Forevers] plays out like a swift, richly plotted novel. That's partly because Boo writes so damn well. But it's also because over the course of three years in India she got extraordinary access to the lives and minds of the Annawadi slum, a settlement nestled jarringly close to a shiny international airport and a row of luxury hotels. Grade: A."—Entertainment Weekly

"A shocking—and riveting—portrait of life in modern India . . . This is one stunning piece of narrative nonfiction. . . . Boo's prose is electric."—O: The Oprah Magazine
 
"[A] landmark book."—The Wall Street Journal
 
"Moving . . . a humane, powerful and insightful book . . . a book of nonfiction so stellar it puts most novels to shame."—The Boston Globe

"A mind-blowing read."—Redbook
 
"An unforgettable true story, meticulously researched with unblinking honesty . . . pure, astonishing reportage with as unbiased a lens as possible."—The Christian Science Monitor
 
"The most riveting Indian story since Slumdog Millionaire—except hers is true."—Marie Claire

"Seamless and intimate . . . a scrupulously true story . . . It's tempting to compare [Behind the Beautiful Forevers] to a novel, but . . . that would hardly do it justice."—Salon
 
"Extraordinary . . . moving . . . Like the best journeys, Boo's book cracks open our preconceptions and constructs an abiding bridge—at once daunting and inspiring—to a world we would never otherwise recognize as our own."—National Geographic Traveler
 
"Behind the Beautiful Forevers offers a rebuke to official reports and dry statistics on the global poor. . . . Boo is one of few chroniclers providing this picture. She's a moral force and . . . an artist of reverberating power."—The American Prospect

"Kate Boo's reporting is a form of kinship. Abdul and Manju and Kalu of Annawadi will not be forgotten. She leads us through their unknown world, her gift of language rising up like a delicate string of necessary lights. There are books that change the way you feel and see; this is one of them. If we receive the fiery spirit from which it was written, it ought to change much more than that."—Adrian Nicole LeBlanc, author of Random Family

"I couldn't put Behind the Beautiful Forevers down even when I wanted to—when the misery, abuse and filth that Boo so elegantly and understatedly describes became almost overwhelming. Her book, situated in a slum on the edge of Mumbai's international airport, is one of the most powerful indictments of economic inequality I've ever read. If Bollywood ever decides to do its own version of The Wire, this would be it."—Barbara Ehrenreich, author of Nickel and Dimed

"A beautiful account, told through real-life stories, of the sorrows and joys, the anxieties and stamina, in the lives of the precarious and powerless in urban India whom a booming country has failed to absorb and integrate. A brilliant book that simultaneously informs, agitates, angers, inspires, and instigates."—Amartya Sen, Professor of Economics and Philosophy at Harvard University, winner of the Nobel Prize in Economics

"Without question the best book yet written on contemporary India. Also, the best work of narrative nonfiction I've read in twenty-five years."—Ramachandra Guha, author of India After Gandhi

"There is a lot to like about this book: the prodigious research that it is built on, distilled so expertly that we hardly notice how much we are being taught; the graceful and vivid prose that never calls attention to itself; and above all, the true and moving renderings of the people of the Mumbai slum called Annawadi. Garbage pickers and petty thieves, victims of gruesome injustice—Ms. Boo draws us into their lives, and they do not let us go. This is a superb book."—Tracy Kidder, author of Mountains Beyond Mountains and Strength in What Remains

"It might surprise you how completely enjoyable this book is, as rich and beautifully written as a novel. In the hierarchy of long form reporting, Katherine Boo is right up there."—David Sedaris
Random House Trade Paperbacks, 9780812979329, 288pp.
Publication Date: April 8, 2014
About the Author
Katherine Boo is a staff writer at The New Yorker and a former reporter and editor for The Washington Post. Her reporting has been awarded a Pulitzer Prize, a MacArthur "Genius" grant, and a National Magazine Award for Feature Writing. For the last decade, she has divided her time between the United States and India. This is her first book.