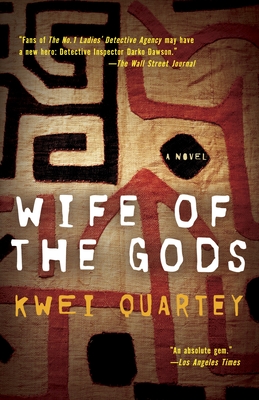 Wife of the Gods (Paperback)
A Novel (A Darko Dawson Mystery #1)
Random House Trade Paperbacks, 9780812979367, 336pp.
Publication Date: August 3, 2010
* Individual store prices may vary.
Description
Introducing Detective Inspector Darko Dawson: dedicated family man, rebel in the office, ace in the field—and one of the most appealing sleuths to come along in years. When we first meet Dawson, he's been ordered by his cantankerous boss to leave behind his loving wife and young son in Ghana's capital city to lead a murder investigation: In a shady grove outside the small town of Ketanu, a young woman—a promising medical student—has been found dead under suspicious circumstances. Dawson is fluent in Ketanu's indigenous language, so he's the right man for the job, but the local police are less than thrilled with an outsider's interference. For Dawson, this sleepy corner of Ghana is rife with emotional land mines: an estranged relationship with the family he left behind twenty-five years earlier and the painful memory of his own mother's inexplicable disappearance. Armed with remarkable insight and a healthy dose of skepticism, Dawson soon finds his cosmopolitan sensibilities clashing with age-old customs, including a disturbing practice in which teenage girls are offered to fetish priests as trokosi, or Wives of the Gods. Delving deeper into the student's haunting death, Dawson will uncover long-buried secrets that, to his surprise, hit much too close to home.
About the Author
Kwei Quartey was raised in Ghana by an African American mother and a Ghanaian father, both of whom were university lecturers. Dr. Kwei Quartey practices medicine in Southern California, rising early in the morning to write before going to work. He is currently writing his next novel.


From the Hardcover edition.
Praise For Wife of the Gods: A Novel (A Darko Dawson Mystery #1)…
"Move over Alexander McCall Smith. Ghana has joined Botswana on the map of mystery . . . [This] newcomer is most welcome."—Kirkus

"Crisp, engrossing debut…. Fans of McCall Smith's No. 1 Ladies' Detective Agency novels will relish the opportunity to discover yet another intriguing area of Africa." —Booklist, Starred Review

"A winning Debut…readers will be eager for the next installment in what one hopes will be a long series." —Publisher's Weekly

"Wife of the Gods is a gem. Memorable fiction is always about discovery, and this fascinating debut delivers much that is new. Kwei Quartey contrasts the modern against the ancient while portraying his native West Africa in a way that is always fresh and alluring. He introduces us to people we don't know who live a culture we've never imagined, and he manages to offer the most elusive of fabulist gifts…an engrossing story we haven't heard."—Stephen White, author of The Siege

"A sensitive novel of powerful family passions, set in the unique and vivid colours of Ghana.  It is a complex mystery and with a detective that I hope we meet again."—Anne Perry, author of Buckingham Palace Gardens

"With great artistry, Quartey takes us on a mystical trip through the heart of Ghana where we visit remarkable characters and find ourselves tangled in unfathomable mysteries."—Colin Cotterill, author of Curse of the Pogo Stick

"Kwei Quartey's wonderful Inspector Darko Dawson mystery, Wife of the Gods, brings to vivid life a character and a setting that no mystery fan should miss."—Charles Todd, author of A Matter of Justice: An Inspector Ian Rutledge Mystery


From the Hardcover edition.